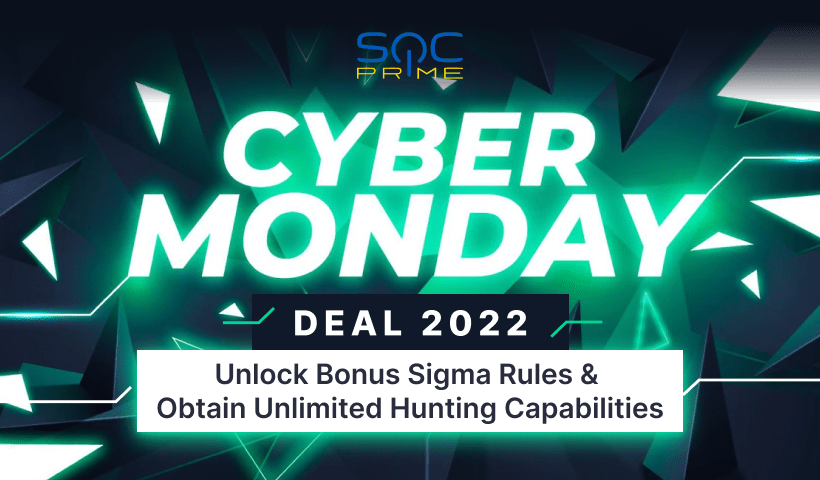 We are thrilled to announce our Cyber Monday promotion to help our committed SOC Prime users enhance their cyber defense capabilities. As part of this special offer, each SOC Prime user who purchases our On Demand subscription gains a brilliant opportunity to receive an exclusive Cyber Monday offer for 20% more premium detection content on top of the amount available at the chosen subscription tier. You can receive up to 200 additional Sigma rules. Act now, as this offer won't last, and expires on December 31, 2022.
We also have savory threat hunting perks for both the existing On Demand subscribers who want to upgrade to Enterprise and new SOC Prime users who choose to subscribe to an Enterprise 1000 or higher plan through December 31, 2022. Teams can leverage Uncoder CTI and Quick Hunt for free for a one-year period, which is normally available as separate subscription add-ons.
Cyber Monday Deal 2022 Benefits
SOC Prime operates the industry's first and most advanced platform for collective cyber defense that cultivates collaboration from a global cybersecurity community and curates the most up-to-date Sigma rules compatible with over 25 SIEM, EDR, BDP, and XDR platforms. Our security analytics repository provides access to a constantly growing library of 250,000+ context-enriched detections aligned with the MITRE ATT&CK® framework.
By fusing ATT&CK and Sigma, SOC Prime ensures access to the world's largest knowledge base constantly updated and is searchable by the defenders at sub-second performance. This presents an opportunity for cyber defenders to learn about threats faster, prioritize in minutes, deploy detection code in an automated fashion, and focus the effort on security operations and threat mitigation before adversaries have a chance to attack.
On Demand Perks
Unleash the power of collective cyber defense by purchasing our On Demand subscription plan:
Immediately access Sigma rules of your choice to detect attacks on the earliest stages of the life cycle
Address the latest threats with over 400 new detection algorithms released monthly
Obtain best-effort support and recurrent updates for unlocked rules
Save up to 4,000 hours on detection content research and development per year
Each user who purchases the On Demand plan through December 31, 2022, gets from 10 to 200 bonus Sigma rules on top of the amount available in the chosen tier. Boost the detection engineering capability of your team and enhance the organization's security posture with SOC Prime's Cyber Monday Promo.
Note: To activate your Cyber Monday Promo perks, just purchase one of the available On Demand subscription plans, and 20% bonus Sigma rules will be added on top of the amount of the available rule count. 
Enterprise Perks
Searching for ways to advance your threat hunting capabilities and leverage the power of SOC Prime's Detection as Code platform at the fullest scope?
Upgrade to the Enterprise subscription plan 1000 or higher until December 31, 2022, and gain unlimited use of Uncoder CTI and Quick Hunt for free for twelve months.
With Uncoder CTI, SOC team members can convert IOCs of any type into custom hunting queries on the fly to perform instant IOC searching in the environment of your organization. The module supports 20+ SIEM & XDR technologies, including Microsoft Sentinel, Chronicle Security, Elastic Stack, and Splunk. Just paste any text containing IOCs and get the query tuned to run in the environment of your choice. Automatically add exceptions to decrease the number of false positives, smoothly remap the default parameters to match your custom data schema, and get minimum syntax errors through the customization of symbols and keywords. Uncoder CTI helps eliminate the manual routine to let your team concentrate on the tasks that matter the most.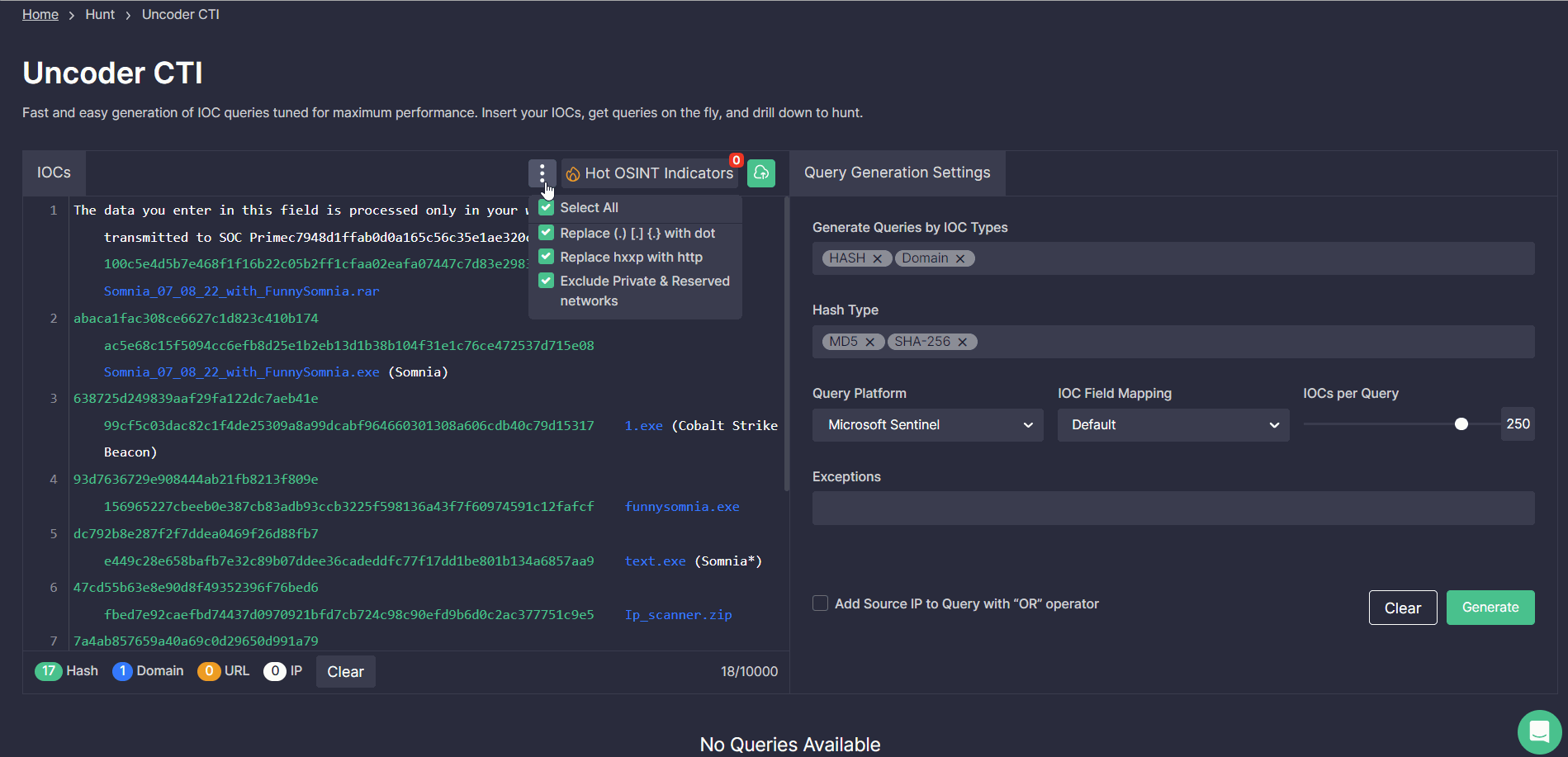 By getting one year of free access to Quick Hunt, your SOC team obtains an unlimited threat hunting capability powered by 250,000 detection algorithms available in the world's largest threat detection marketplace repository. Stay informed on the most anticipated threats and perform hunts automatically directly in your organization's environment to always stay ahead of the attackers. Anyone on your SOC Team can instantly become a Threat Hunter and search for the latest threats in a single click on the available log data without integration hurdles and parsing issues.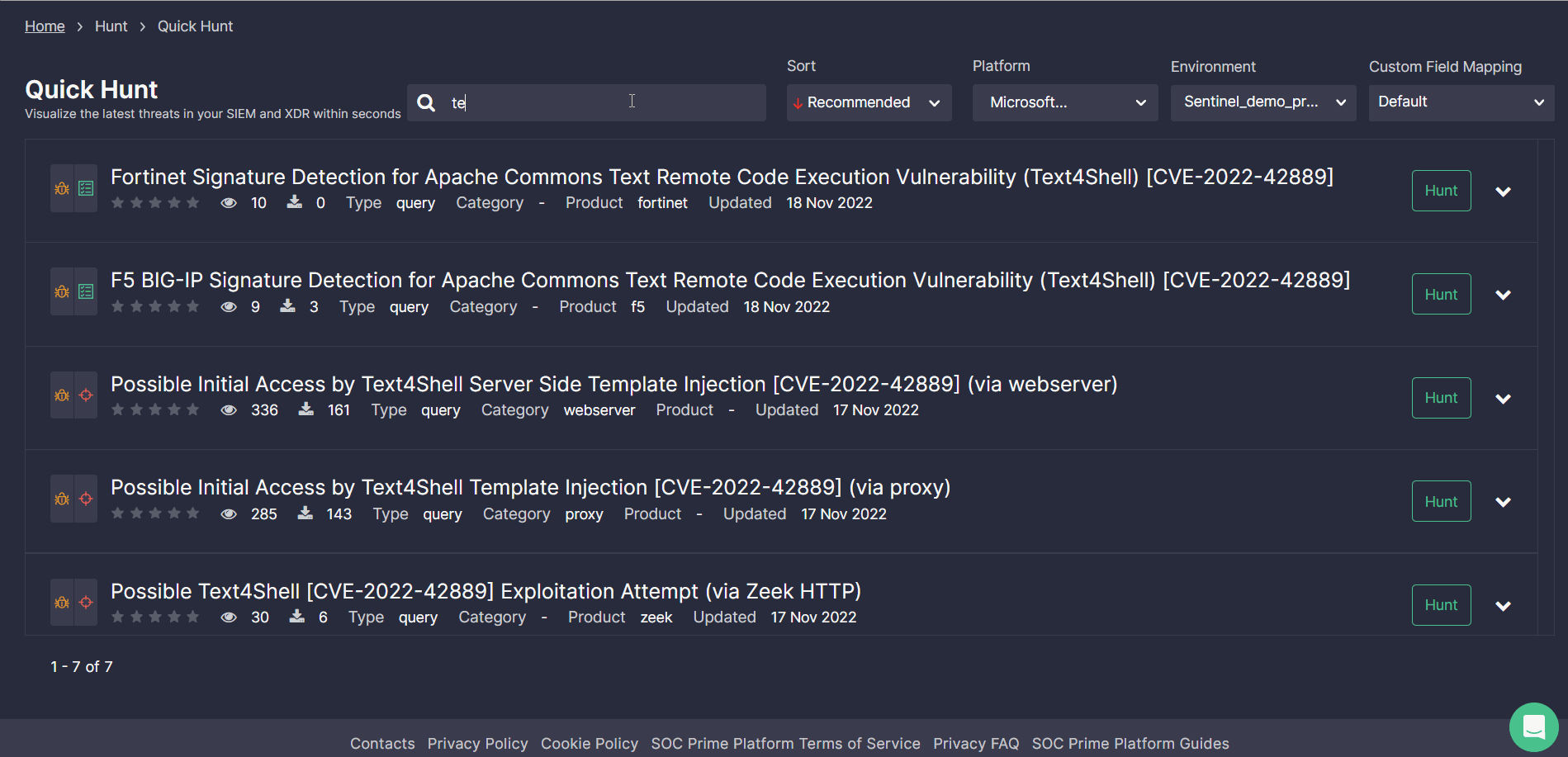 Note: To activate your Cyber Monday Promo perks, just purchase or upgrade to Enterprise 1000 or above, and our Sales Team will get in touch with you shortly to detail the Uncoder CTI & Quick Hunt free-of-charge availability throughout 2023.
Enhance your security readiness by embracing the power of collective cyber defense and joining our global cybersecurity community at SOC Prime Platform. Respond to threats faster and detect them earlier than 95% of your peers. Curb the trend of growing cyber risks and protect your company's environment by ensuring SOC Prime's robust security solutions are up and running.