A community-driven approach based on Detection-as-Code principles and cutting-edge technology leveraging Sigma language and MITRE ATT&CK® enables intelligent-driven threat detection, cost-efficient and cross-platform threat investigation, and instant access to detections for critical threats. SOC Prime's platform aggregates over 200,000 pieces of detection content easily convertible to 25+ SIEM, EDR, and XDR formats and aligned with the ATT&CK framework. This unique approach enables SOC Prime users to proactively defend against the latest threats. In April 2022, during the Sandworm attack against the critical infrastructure in Ukraine, 9 out of 13 ATT&CK techniques were identified by the SOC Prime team since Sigma rules for this threat were invented two years earlier.
Tap into the power of collective cyber defense with our On Demand subscription plan to equip your in-house detection engineering team with everything you need to act faster than attackers:
Immediately access detection content matching your security needs
Timely address all the latest threats with over 400 algorithms provided on a monthly basis
Get best-effort support and updates for unlocked rules
Enjoy unlimited threat hunting capabilities for the chosen detection content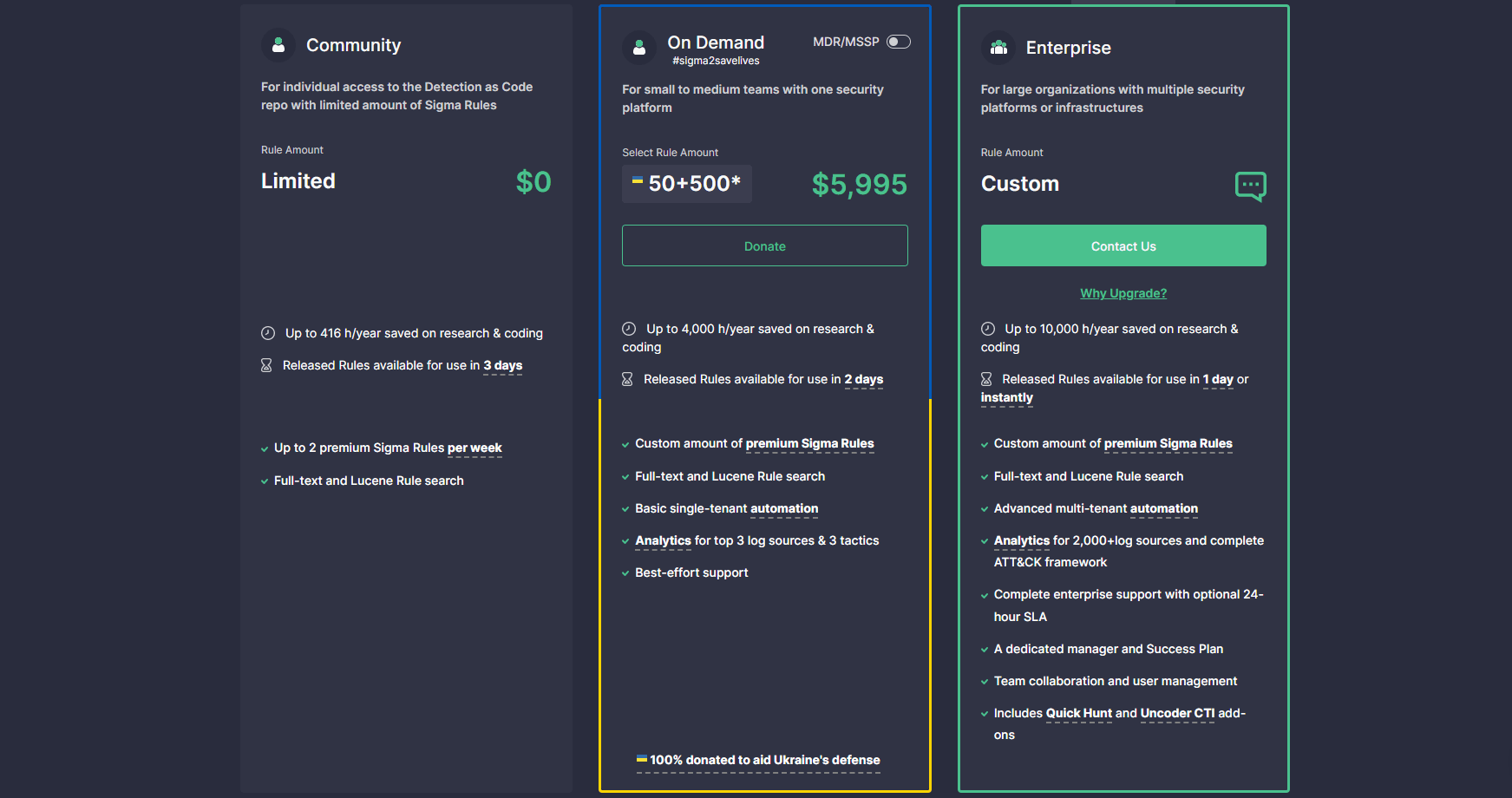 Save up to 4,000 SOC Team Hours & Minimize Risks of Reputational Damage
The constantly changing threat landscape requires ultra-responsiveness from cyber defenders to keep pace with the growing attack volumes. On average, it takes 4 hours to develop a single detection or a custom use case in-house. Your team struggles daily to write detection algorithms for emerging threats from scratch. However, the same detection content might be already available and developed by your industry peers. With SOC Prime's platform, you can take advantage of the collective cybersecurity expertise and obtain ready-to-deploy use cases for the latest threats from the world's largest marketplace of detection content, roughly saving your team up to 4,000 hours on content research and development per year while significantly reducing breach risks. The On Demand plan flexibility allows picking up to 1,000 custom Sigma rules mapped to ATT&CK to ensure complete visibility into threats most relevant to the organization's security needs. The On Demand subscription is a perfect fit for small to medium teams looking for a cost-efficient solution to timely address known cyber defense gaps and maximize their SOC investments. The subscription purchase is available in a couple of clicks via a credit or debit card using Stripe, with your plan instantly activated.
More specifically, organizations can take advantage of the following On Demand capabilities included in the package:
Improve cybersecurity posture and minimize risks of reputational damage
Proactively defend against emerging threats matching the organization's threat profile
Boost your SOC team engineering capacity by freeing up time for security monitoring and incident response operations
Identify security gaps and keep track of log source and MITRE ATT&CK coverage progress to boost data utilization efficiency
Gain access to the Sigma rules of your choice and drive the immediate value of On Demand capabilities with pay-as-you-go online card payment via Stripe
Detect Current and Emerging Threats Faster Than 95% of Your Industry Peers
With SOC Prime's On Demand subscription, security engineers can make their tools in use Sigma-enabled to defend against the latest threats 95% faster than industry peers. Powered by the collective cybersecurity expertise of the global cyber defender community and crowdsourced detection content development, SOC Analysts, Detection Engineers, and Threat Hunters can always have a detection algorithm against any TTP used in cyber attacks allowing them to stay ahead of adversaries.
With the On Demand subscription, you are always equipped with the most relevant detection content matching your security needs:
200K+ detection algorithms available on demand, with 400 detections added monthly to address the latest threats
Up to 1,000 ready-to-deploy Sigma rules of your choice to focus on threat detection priorities that matter most
600+ threat researchers contributing to our detection content repository on a daily basis
Reduced manual routine with automated deployment and content customization capabilities
Instant threat hunting in your SIEM or EDR environment with the Quick Hunt add-on*
Streamlined threat investigation with custom, performance-optimized IoC-based queries via Uncoder CTI*
Please note that Quick Hunt and full Uncoder CTI capabilities are available for a separate price as add-ons to the On Demand subscription.
Start searching for the latest threats at https://socprime.com/ to see in action how you can boost your threat detection and hunting capabilities with collective cyber defense. To learn more about On Demand capabilities, visit https://my.socprime.com/pricing/ and choose the plan customized to your current security needs.