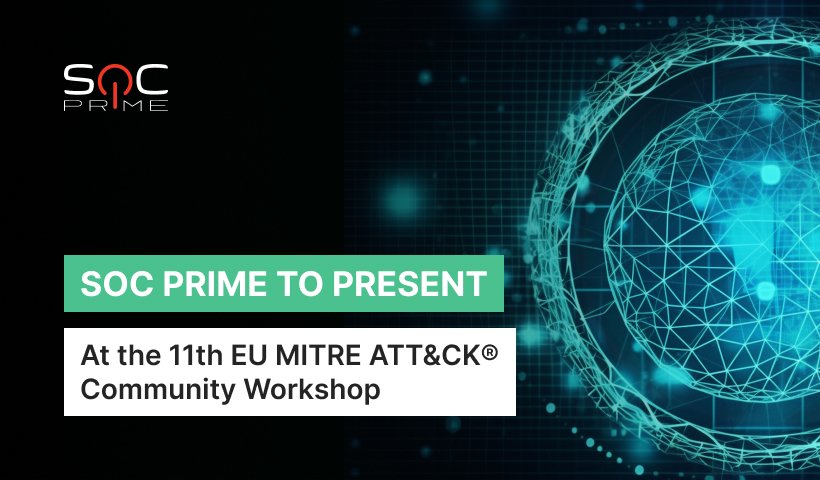 We are delighted to announce that SOC Prime will be speaking at the Eleventh EU MITRE ATT&CK® Community Workshop, which takes place in Brussels on May 26, 2023. The upcoming event connects cybersecurity professionals from across the globe in a single venue fostering information exchange and enabling anyone to learn best industry practices from their peers. The workshop agenda and registration details are available on the dedicated event page.
SOC Prime's presentation scheduled for 15:20 (CET) will share insights into how fusing the power of collective industry expertise backed by a dataset of 10,000+ Sigma rules and MITRE ATT&CK and augmented intelligence has shaped an all-in-one tool for advanced detection engineering, Uncoder AI. During this presentation, the global cyber defender community will have a chance to learn how Uncoder AI empowers teams to write detection code faster and without errors using the automatic completion of Sigma rules and the "Green Warden" tool for instant rule validation. 
Attendance of this event marks the ninth presentation from SOC Prime Team at the EU MITRE ATT&CK® Community Workshop. We are proud to carry on this tradition presenting at one of the best non-commercial events in the industry that connects cybersecurity masterminds, MITRE ATT&CK and ENGENUITY team members, developers of the ATT&CK Framework, and progressive community peers driven by a common mission to evolve collective cyber defense together.