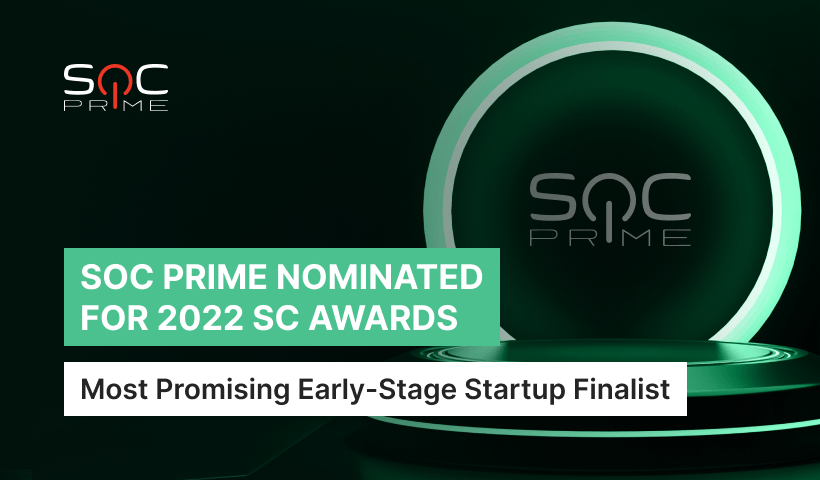 Company's Recognition for Excellence Awards Finalist in the Most Promising Early-Stage Startup Category
Ranked as the industry's most prestigious and competitive accomplishment, the SC Awards recognizes future-proof solutions, progressive organizations, and leaders that are driving innovation and transforming cybersecurity. This year marks the 25th anniversary of the SC Awards initiative, which includes two main award types and a wide range of categories. The Excellence Awards acknowledge top cybersecurity companies and their leaders, investors, and financial partners serving large-scale enterprises and small- or medium-sized businesses, including emerging startups.
On May 16, 2022, SC Awards Team announced SOC Prime as a finalist for the Most Promising Early-Stage Startup award, which illuminates emerging businesses of great promise offering strong flagship IT products.
It's an honor to be nominated as an SC Awards finalist. SOC Prime's mission is to transform cybersecurity by turning global industry collaboration into innovation. Our Detection as Code platform accelerates threat detection and hunting capabilities and enables collaborative cyber defense to match the dynamic pace of attacks. SOC Prime's platform being recognized as one of the most promising flagship products within IT industry is an important acknowledgment as we seek to revolutionize cybersecurity and make threat detection easier, faster, and more efficient.

Andrii Bezverkhyi, Founder, CEO and Chairman at SOC Prime
Stay abreast and informed on emerging attacks with SOC Prime's search engine for Threat Hunting, Threat Detection, and Cyber Threat Intelligence. To explore how SOC Prime helps organizations accelerate threat detection capability and evolve threat hunting velocity, get started with the Detection as Code platform.