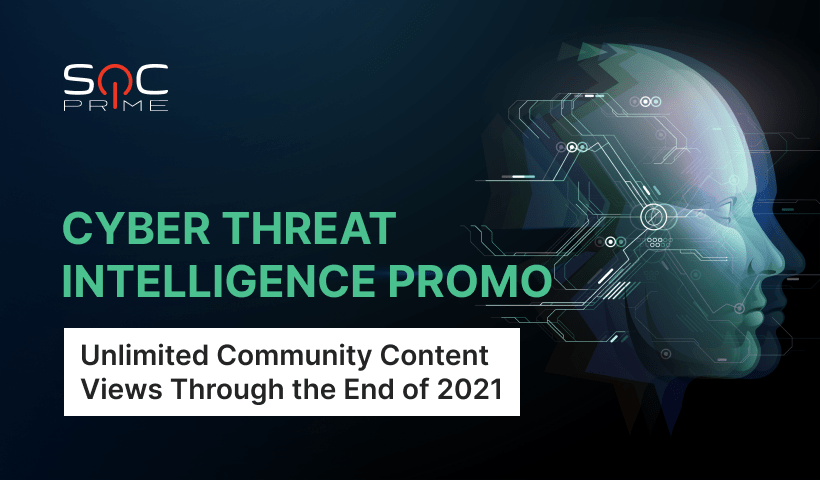 Cyber Monday is over, but not the hot deals from SOC Prime. In December 2021, we launch the Cyber Threat Intelligence Promo to break the limits on Community content views for SOC Prime users for the remainder of the year! 
Powered by its Detection as Code Platform, SOC Prime curates Threat Detection Marketplace, the world's leading and largest security analytics repository that provides access to a constantly growing library of 130,000+ context-enriched detections tailored to 20+ SIEM, EDR and XDR platforms.
SOC Prime's content base is growing exponentially, adding over 2,000 unique detection algorithms and their translations to all supported platforms per year. Content for critical threats is delivered in less than 48 hours enabling proactive threat detection and extensive visibility. 
Content quality is ensured by constant curation and verification loops backed by feedback from 6,000+ companies, 20,000+ users, and nearly 400 content contributors. We continuously master our detection rules, with almost the entire content base for the last 5 years being updated through 2021.
Cyber Threat Intelligence Promo Benefits
To help security practitioners boost their cyber threat intelligence efforts, we unlock unlimited views of all Community content available in the SOC Prime platform.
By activating the promo code, security professionals can dive into relevant cyber threat intelligence, explore log sources, media mentions, CVE, and MITRE ATT&CK® links to get fully informed on each Community content item. These references enable teams to execute on both strategic and tactical detection objectives with ease, so you can filter and search for content by any combination of metadata. 
SOC Prime also enriches detections with operational metadata such as severity, rule status, and category, which helps identify what content may be more suitable for intended security purposes, such as for generating alerts or threat hunting. This operational intelligence helps prioritize content and limit the number of false positives when deploying Sigma-based detections to your SIEM or EDR. For instance, deploying fully tested content items with the "Stable" status is highly unlikely to generate false positives and thus, helps reduce the analysts workload and streamlines security operations.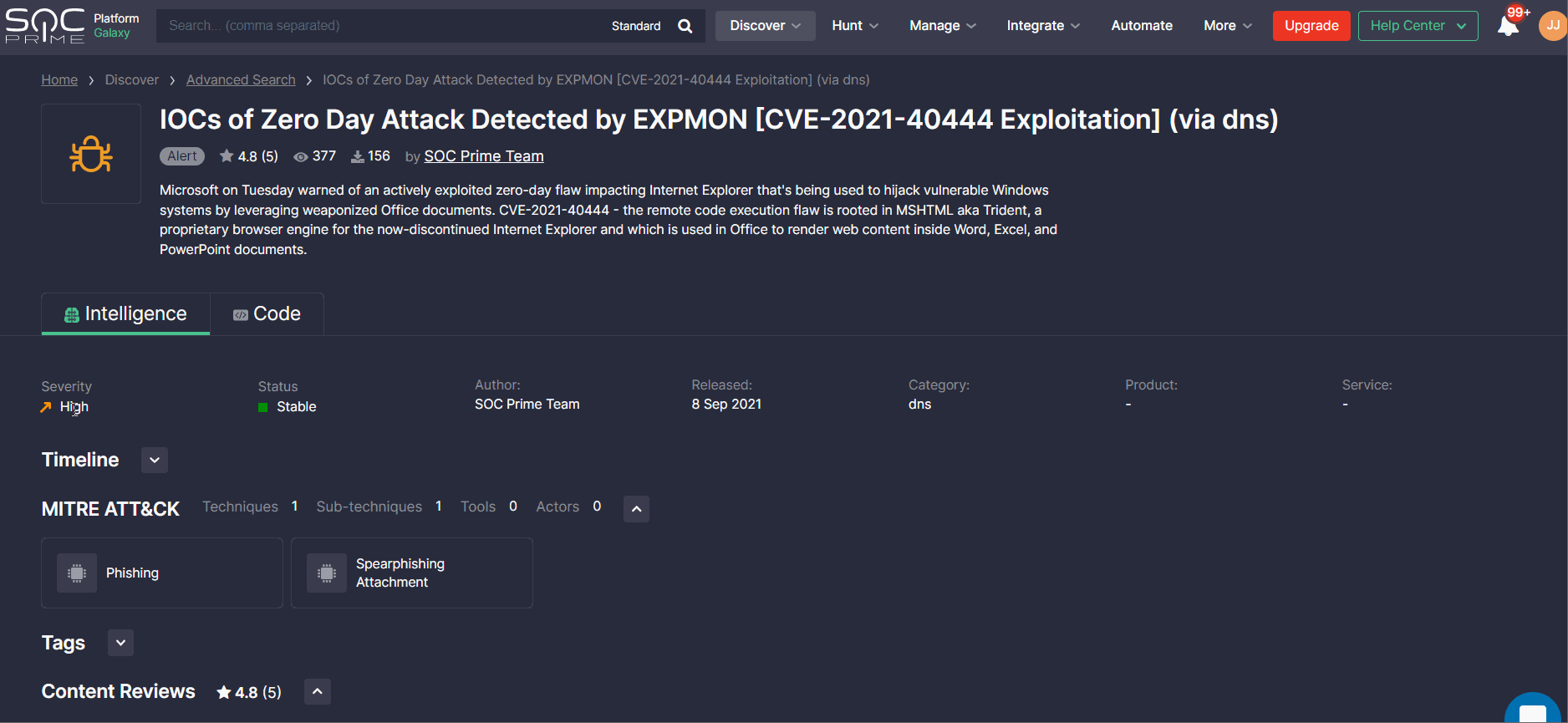 How to Get the Promo
Both newcomers to the platform and the current users can take advantage of the Cyber Threat Intelligence Promo beginning on December 1, 2021, and through the end of the year. 
SOC Prime users who have an account linked to a corporate email address can activate the Cyber Threat Intelligence promo code in the platform Account Settings. Find the Additional Settings section, enter the "Cyber-Threat-Intelligence" code, and click Activate.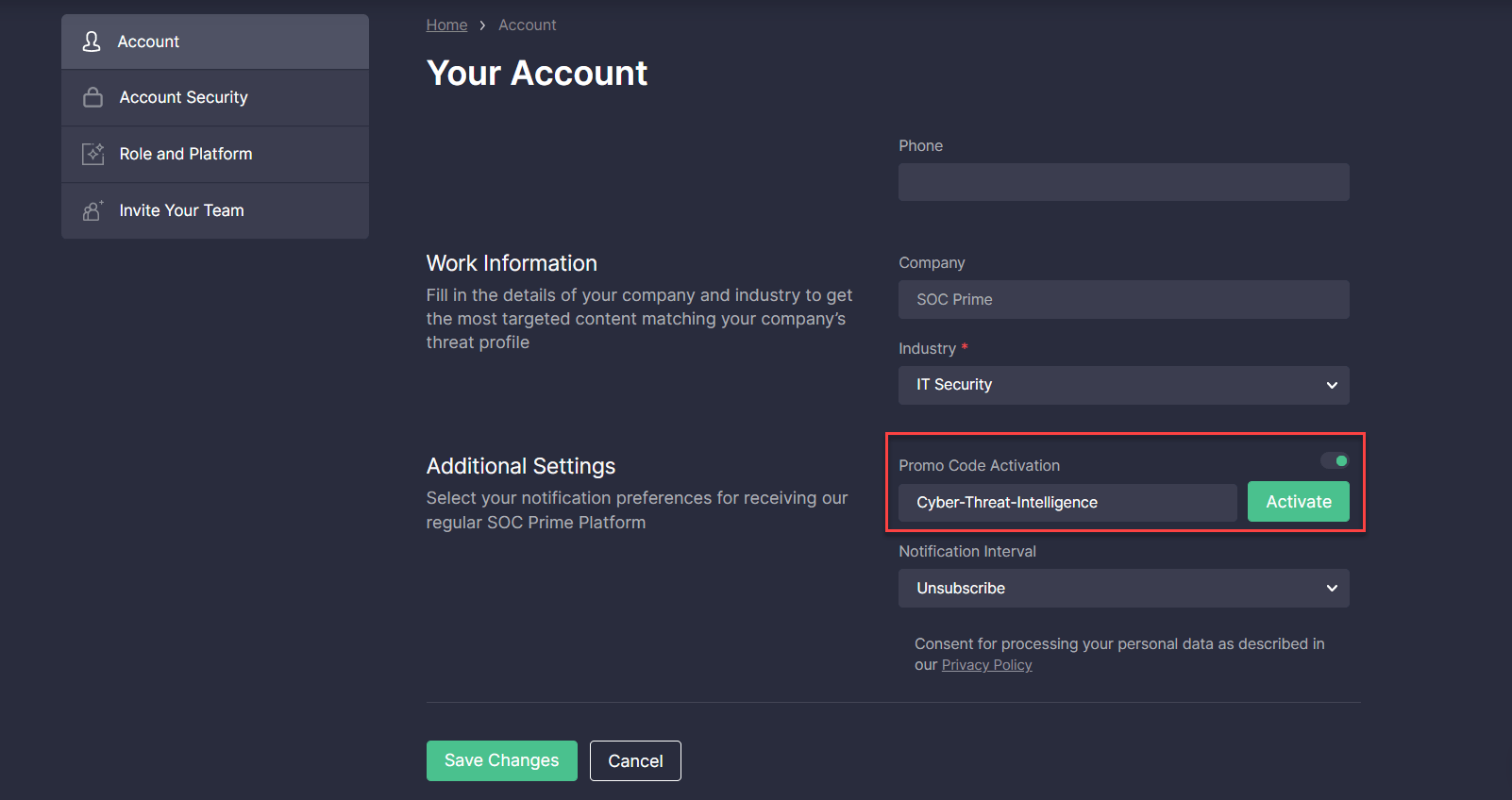 Note: Only users with the corporate email address are eligible for the promotion.
New users who want to take advantage of the promo, can go to the platform signup page and manually enter the "Cyber-Threat-Intelligence" code by clicking the "Have a Promo Code?" button.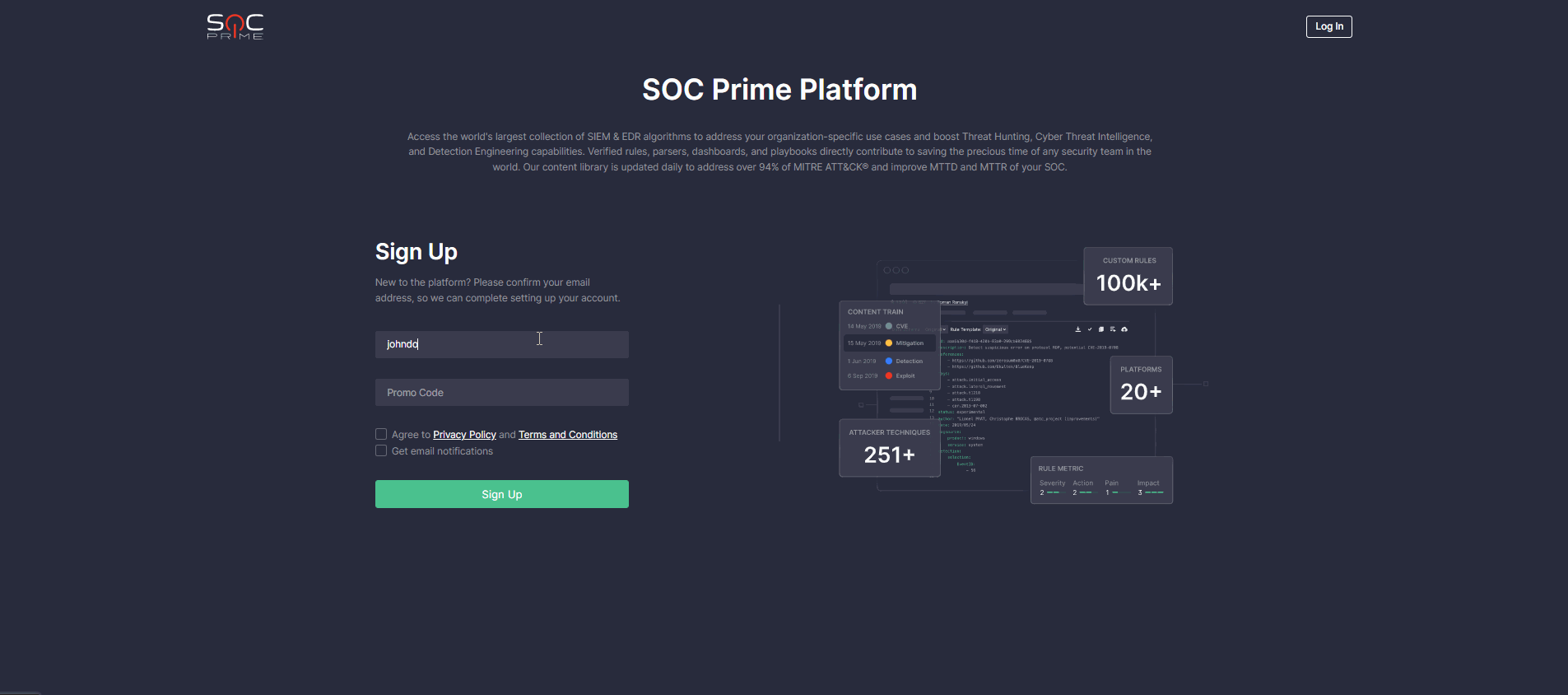 Note: Security practitioners with the Limited Access subscription can change their email address to a corporate one in Account Settings to be able to benefit from the Cyber Threat Intelligence Promo offer.
Gain from collaboration with the global cybersecurity community by joining SOC Prime's Detection as Code platform to enable your SIEM or EDR to stay constantly updated on the latest threats while saving costs on content research and development. Striving to contribute your own detections? Join the SOC Prime Threat Bounty Program, the world's largest and most diverse cyber defense bounty program allowing researchers to monetize their own threat detection content.