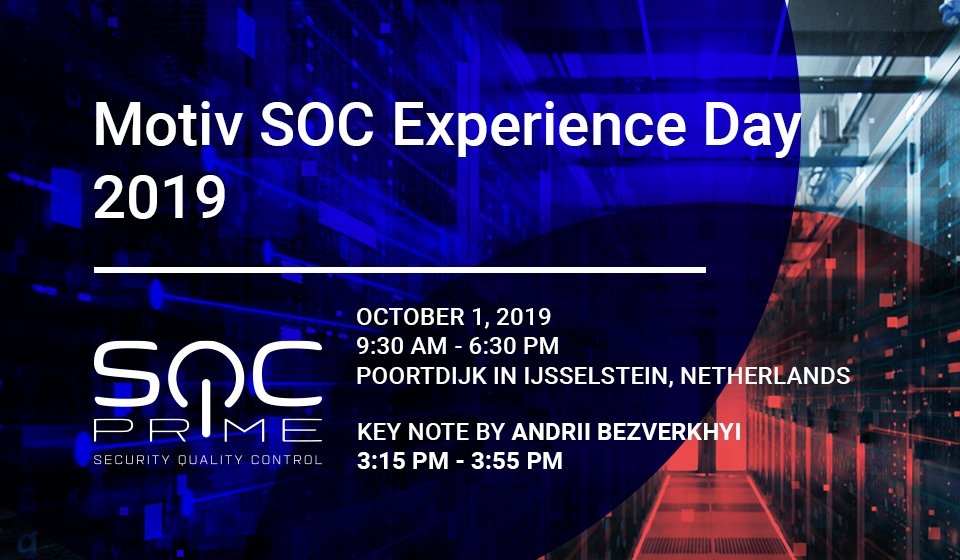 Delaware, USA – September 12, 2019 – SOC Prime team will join Motiv ICT Security on October 1, 2019 for the first SOC Experience Day. The event gathers security experts and leaders to network and discuss practical approach on how to Predict, Prevent, Detect and Respond to cyber attacks. SOC Experience Day will be held at a historic "Uitspanning" on the Poortdijk in IJsselstein, Netherlands. This is where Motiv's state-of-the-art Security Operations Center has been located since 2018, as has the Motiv Grand Café; the place where the cyber security community meets each month during an informal drink.
SOC Prime's founder and CEO Andrii Bezverkhyi will present a keynote, describing how to advance your cyber security analytics. His talk will cover the cutting edge innovation in Security Operations Centers with a focus on the areas of Threat Detection, SecOps, MITRE ATT&CK, Sigma and Threat Bounty.
SOC Prime is honored to share the stage with our long time partner Motiv as well as industry leaders and our technology partners including Micro Focus, Cisco, Qualys, Darktrace, ThreatQuotient, Bitsight, Cyberbit, and Intsight.
Event registration and agenda https://www.motiv.nl/evenement/motiv-soc-experience-day-2019/
We look forward to seeing you there.