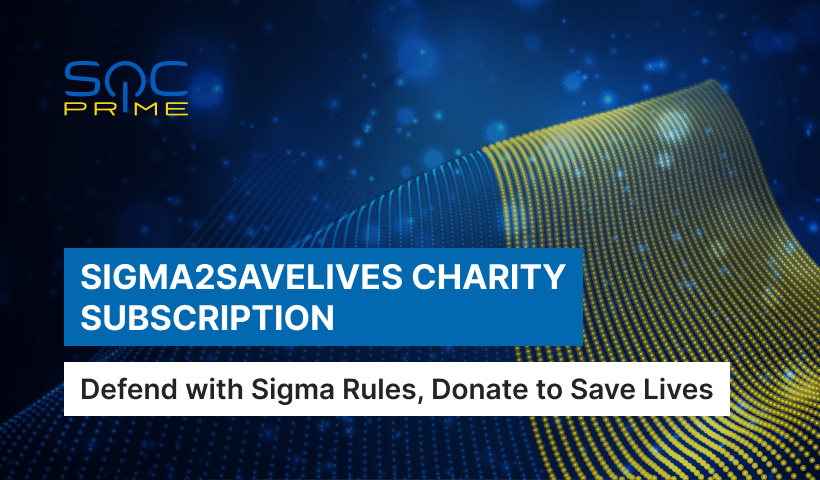 On April 4, 2022, SOC Prime launched Sigma2SaveLives charity subscription with 100% of revenue going to the Come Back Alive Foundation, the largest non-governmental Ukrainian organization that uses funds to supply technology, training, and accouterments to the Armed Forces of Ukraine. Until now, SOC Prime's customers from all over the world helped us to accumulate over $56,000 that was donated to buy personal protective equipment, scouting gear, and medication. To enhance our support for people in Ukraine, we now establish SOC Prime's charity fund.
For over 8 months, we have been living in a new reality with the war lasting more than 8 months in five domains — land, sea, air, space, and cyber. Since the first days of russia's full-scale invasion of Ukraine, SOC Prime has been on the cyber frontline of the war helping Ukraine defend the country from russian aggression. By directly cooperating with CERT-UA and SSSCIP, we research, develop, and test Sigma rules on the real battlefield.
In 2022 alone, throughout the ongoing global cyber war, the CERT-UA team reported more than 1,600 attacks against a variety of industries, including government, finance, infrastructure, retail, healthcare, technology, and telecommunications. The aggressor has been developing an offensive strategy for over 30 years, training offensive affiliates and nation-backed hacking collectives to perform military commands and launch cyber espionage campaigns leveraging zero-days and multiple adversary techniques. 
To gain a strategic advantage in the global cyber war and contribute to our victory over the aggressor, we have launched the Sigma2SaveLives charity-based subscription. This initiative helps us unite together against offensive capabilities and illustrates how collective cyber defense contributes to a safer cyber future. By purchasing Sigma2SaveLives, you buy 500 curated Sigma rules against russia-affiliated attacks tested on the real battlefield alongside 50 curated detections of your own choice.  
Striving to help organizations globally to withstand russia-affiliated attacks while supporting Ukrainian Armed Forces that defend the world on the frontline, we expand our charity activities and initiate SOC Prime's charity fund. The new initiative will help us be as fast as possible, both in providing financial help to Ukraine and reporting about it.  
Starting from October 26, 2022, all On Demand offerings presume an option to add 10% of its initial cost on top of the final payment. We will double this sum and donate to SOC Prime's charity fund. In case you buy the Sigma2SaveLives subscription plan, all costs will be donated to provide focused aid for Ukrainian people where it matters most.
Each On Demand subscription purchased is a donation that is saving one's life right now by providing protective and medical equipment. Ukraine stands on the edge between the civilized world and darkness. But even in the darkest times, we stick together and win.

Andrii Bezverkhyi, CEO and Founder at SOC Prime
By purchasing SOC Prime's On Demand plan, you get curated Sigma rules to detect threats faster and more effectively than 95% of your industry peers. Having security operations Sigma-enabled and backed by crowdsourced detection content development, you can always have a detection algorithm against any TTP used in cyber attacks. Simultaneously, each On Demand subscription purchased is a donation to aid the people of Ukraine.