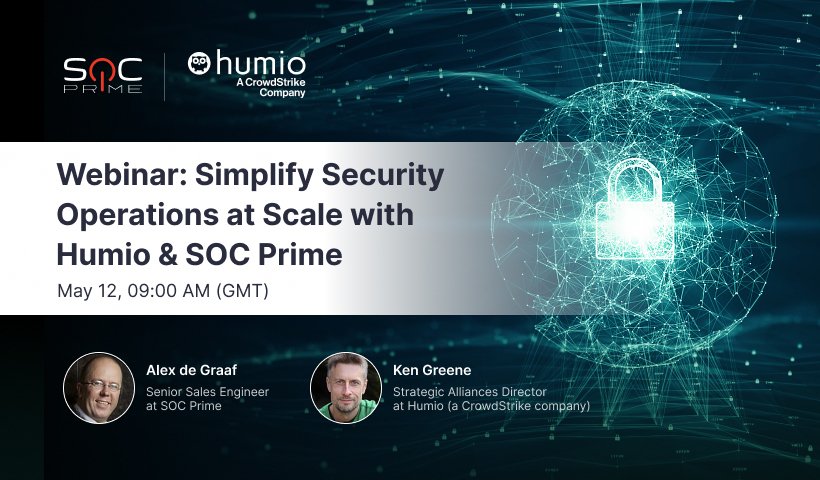 In 2020, SOC Prime added support for the Humio modern log management platform, enabling security practitioners to search for and detect the latest threats with Sigma rules automatically converted to the Humio cloud-native format. Currently, SOC Prime's platform curates over 7,500 Humio alerts and queries. 
Secure your spot at the upcoming webinar "Simplify Security Operations at Scale with Humio & SOC Prime" scheduled for May 12, 2022 at 9:00 am GMT. Presented by cybersecurity experts Alex de Graaf, Senior Sales Engineer at SOC Prime, and Ken Greene, Strategic Alliances Director at Humio, we'll share how to extract more value from SOC Prime and Humio.
During this webinar we'll cover:
How the Sigma Project transforms cybersecurity and optimizes threat detection

How to make the most of the

Threat Bounty Program

, SOC Prime's crowdsourcing initiative

How Humio + SOC Prime detection rules help you quickly uncover cyber threats 

How to set up live alerts and dashboards in Humio to identify anomalies within your systems and applications
Why Humio?
Humio, a CrowdStrike company, offers an advanced, purpose-built log management platform designed to meet the needs of today's IT environments. Humio is the only data platform that enables companies to log everything and answer anything  — in real time, at scale and with hybrid deployment options. 
Humio delivers a low total cost of ownership, industry-leading unlimited plans, minimal maintenance and training costs, and remarkably low compute and storage requirements. And with an index-free architecture that reduces the size of your data repositories, Humio makes it faster and cheaper to search your log data for threats.
For details on how Humio customers can drive immediate value from SOC Prime's Detection as Code platform, read this article covering the SOC Prime and Humio integration.