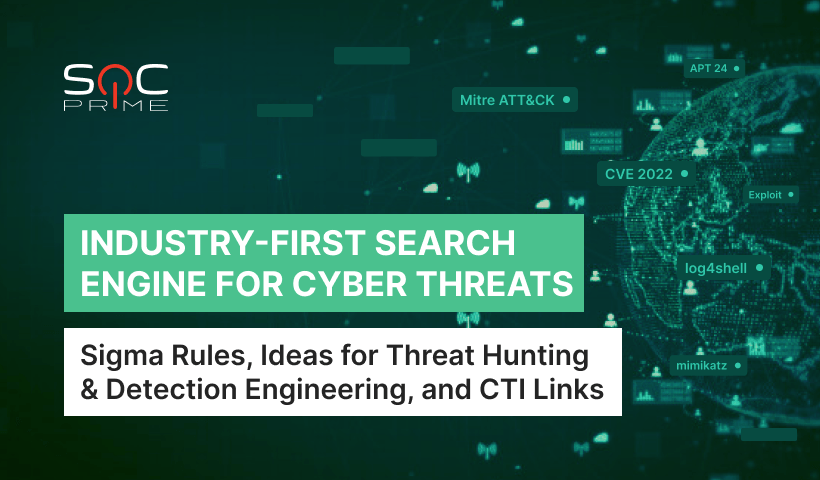 Instant Access to Sigma Rules and Relevant Context on Cyber Threats
SOC Prime announces the release of a first-of-its-kind search engine for Threat Hunting, Threat Detection, and Cyber Threat Intelligence. This innovation is designed to enable cybersecurity professionals to instantly discover usable and relevant information on cyber threats including dedicated Sigma rules and on-the-fly translations for 25+ SIEM, EDR, and XDR solutions.  
SOC Prime's search engine provides instant access to contextual information on cyber threats including Sigma rules powered by a recommendation engine that presents the right information at the right time for cybersecurity practitioners seeking relevant detection content to proactively defend their organizations. Now, Threat Hunters, Cyber Threat Intelligence experts, Detection Engineers, and other InfoSec practitioners that confront an ever-expanding attack surface can instantly access relevant Sigma rules and convert them to match their unique security environment. The intent is to:
Deliver enriched, verified, and highly accurate, behavioral detection content across multiple disparate security tools with insights into prioritization 

Provide indicators accompanied with proper threat context, including tags, links to media sources, MITRE ATT&CK®, CVE descriptions, and all other contextual information   

Simplify critical threat hunting operations by providing direct access to the right information at the exact time it's required

Reduce "noise" by instantly identifying content relevant to unique and equally complex and ever-expanding security infrastructure.
SOC Prime's newly released tool enables streamlined search across multiple parameters including CVE, exploit, APT, or any other threat of interest. Search results include a robust set of relevant information including links to prioritized references.
The continuous escalation of attack volume combined with an ever-changing threat landscape demands ultra-responsiveness from cyber defenders. SOC Prime has delivered a powerful new tool that consolidates critical threat detection content to serve the needs of Threat Hunters, Cyber Threat Intelligence specialists, and Detection Engineers. We've created a 'Google-like' search engine for cyber threats that ensures any security practitioner can instantly find highly relevant cyber threat information and translated Sigma rules that can be applied to their unique security infrastructure.

Andrii Bezverkhyi, Founder, CEO and Chairman at SOC Prime
Cyber Threats and Where to Find Them
Be the first to learn about new attacks, shift in adversaries' tactics, or search for threat results relevant to your organization using SOC Prime's Sigma rules search engine. All result data is aggregated, structured, and includes relevant links defining:  
Sigma rules

MITRE ATT&CK context

Cyber Threat Intelligence references

Data components and log source requirements

CVEs

Known exploits

Mitigation recommendations
Additionally, SOC Prime's search engine supports inline translation and editing of Sigma rules ensuring interaction with 25+ SIEM, EDR, and XDR platforms.