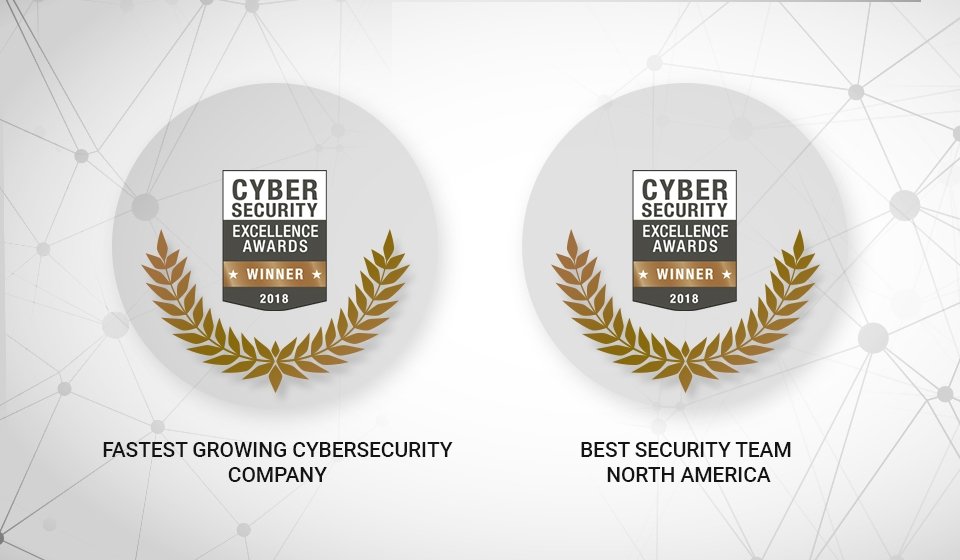 Delaware, USA – February 12, 2018 – SOC Prime, a fast-growing cybersecurity vendor, has been recognized as the winner at the annual Cybersecurity Excellence Awards and received two Bronze trophies. The Cybersecurity Excellence Awards honor individuals and companies that demonstrate excellence, innovation, and leadership in information security. The winners of each nomination were determined based on the popular vote, strength of nomination pitch and company achievements reviewed by members of the Information Security Community.
"Congratulations to SOC Prime for being recognized as a winner in the Fastest Growing Cybersecurity Company and the Best Security Team North America categories of the 2018 Cybersecurity Excellence Awards," said Holger Schulze, CEO of Cybersecurity Insiders and founder of the 400,000-member Information Security Community on LinkedIn that organizes the awards program. "With over 400 entries in more than 70 categories, the 2018 awards are highly competitive and all winners truly reflect the very best in today's cybersecurity industry."
Threat Detection Marketplace is the first global cross-platform marketplace developed by security incident responders for fastest threat detection content delivery to CISO's, SOC Managers and SOC Analysts and used by 1300+ organizations in 116+ countries.
Predictive Maintenance is the backbone technology for SOC operations enabling CISOs, SOC Managers and SIEM engineers to drive SOC operations performance and control the quality of SOC data.
"I would like to thank our customers, partners and friends for their continuous support, feedback and this prestigious recognition. This is so far the most inspiring and thrilling acknowledgment of our mutual effort driving change for a more secure future of our organizations! This award, in fact, was the first award competition we had chance to apply for since company inception… just that one time when we were not busy chasing yet another APT or a global outbreak." said Andrii Bezverkhyi, CEO & founder of the SOC Prime, Inc
SOC Prime team constantly delivers relevant and actionable SOC Use Cases to defend against cyber threats. These range from basic security controls to APT & Ransomware defense, infamous WannaCry, NotPetya & ROBOT attack, Spectre & Meltdown. See and learn about the TDM platform and integrations at https://my.socprime.com/en/integrations/
———–
About SOC Prime
Founded in 2015 SOC Prime, Inc. is a fast-growing cybersecurity vendor enabling mid-to-large enterprises and Managed Security Service Providers (MSSPs) to control their SOC data quality and manage metric-driven security processes. Our clients and partners report solid increase in SOC operations performance and speed up the response to cyber threats from months to minutes. Together, we help 1300+ organizations in 115+ countries enabling fastest threat detection content delivery across the globe.