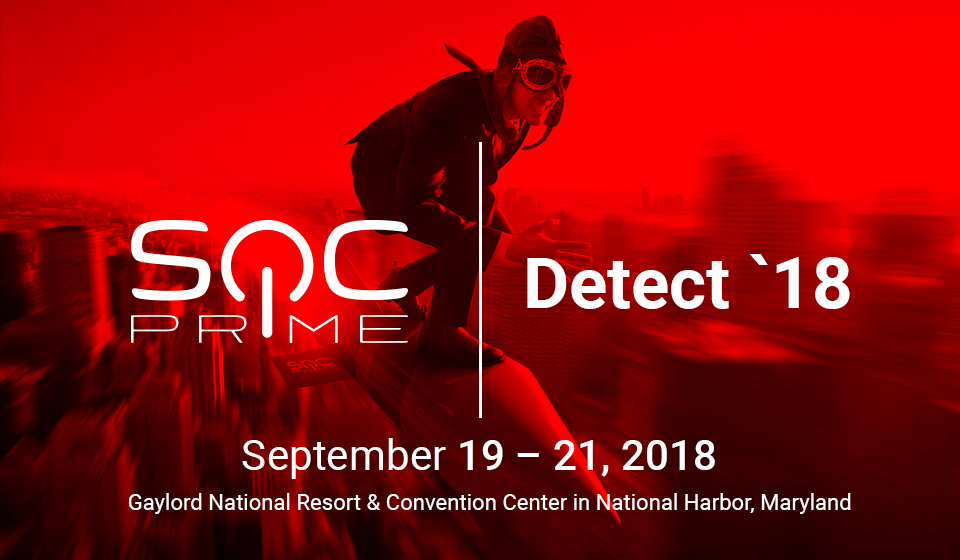 Delaware, USA – September 19, 2018 — SOC Prime team attends Anomali Detect 2018, Threat Hunting Event of the Year that is held at the Gaylord National Resort & Convention Center in National Harbor, Maryland.
Anomali Detect gathers organizations and government agencies to come together under one roof to learn and discuss threat intelligence best practices and the ever-changing landscape of cyber threats. At this threat intelligence event, attendees discover how they can reduce risk in their organization and gain actionable visibility into their IT infrastructure and proactively prevent issues before they arise.
Anomali Detect 2018 will include 40+ hours of education and training on today's most compelling, relevant threat intelligence topics, 35+ breakout sessions designed for all levels of experience, insights from compelling customer presentations highlighting real-world threat intelligence big data issues and solutions to mitigate breaches.
Our experts will showcase the benefits of Threat Detection Marketplace platform as well as demonstrate how to enable continuous risk monitoring and predictive vulnerability management with CyberView, save about 80% of the working time for each daily SIEM administration task with Prespective and unleash the potential of every analyst on the SOC and Threat hunting team with SOC Workflow App for Elastic Stack.
On September 20 at 4:40 pm our CEO will make a session on practical Threat Intelligence use cases. He will tell about the historic search of Tor nodes and lessons learned from Black Energy and Sandworm, catching the StealthPhish by linking datasets with ThreatStream and real-time threat-busting with IOC enriched data and the ELK Stack.