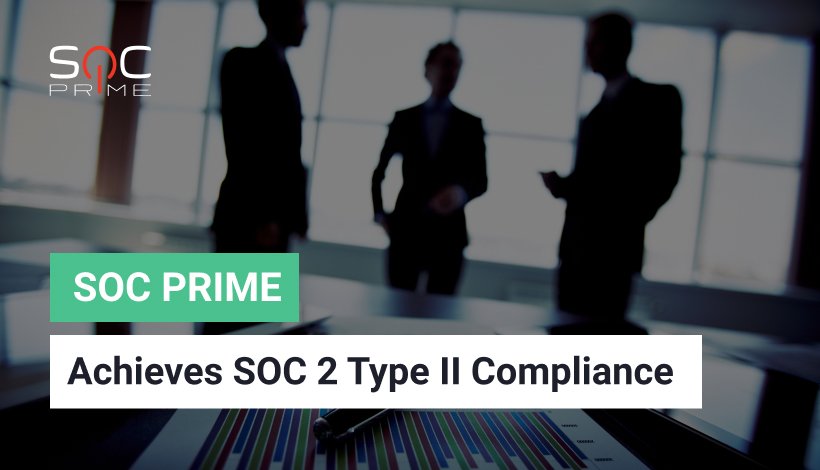 Independent Audit Verifies Controls that Demonstrate SOC Prime's Commitment to Customer Data Security
BOSTON, Mass. – October 27, 2021 – SOC Prime, the world's largest threat detection marketplace, announced that it has successfully completed the Service Organization Control (SOC) 2 Type II audit, demonstrating the company's commitment to customer data security. The audit, conducted by I.S. Partners, LLC in line with attestation standards established by the American Institute of Certified Public Accountants (AICPA), validates that SOC Prime has effective controls in place for its cybersecurity solutions, business operations procedures, and technical infrastructure.
SOC 2® compliance ensures that SOC Prime's information security practices, policies, operations, and procedures meet the relevant requirements for secure data management and emphasize the company's commitment to high standards of excellence for the protection of information assets and information technology resources.
"Compliance with the SOC 2® requirements standards is a critical step that allows us to provide even more high-quality security services to our customers," said Andrii Bezverkhyi, founder, CEO and chairman at SOC Prime. "More than 6,000 enterprises, governments and MDR companies across the world rely on SOC Prime as a trusted partner, and this certification affirms the faith that they've put in our organization to effectively maintain the controls necessary to keep their data secure." 
Customer data security and privacy have been the guiding force driving the company's products and services, beginning with the release of Uncoder.IO, built as a free Sigma online translation engine that doesn't collect any logs while offering free access. All products and services, including the world's largest threat detection marketplace, Uncoder CTI, and Quick Hunt, are run by the in-house SOC Prime Team, ensuring no third-party access. SOC Prime applies industry best practices for data security, encrypting data at rest using the AES-256 encryption algorithm and data in transit with the TLS 1.2 encryption protocol. 
"A SOC 2 Type II certification is imperative for our customers and ensures that our service organization's system is well designed, while operational procedures are properly managed in compliance with high information security and data privacy protection standards," said Vlad Garaschenko, CISO at SOC Prime. "SOC 2 compliance illustrates how SOC Prime can securely manage user data and protect the interests of our customers at a global scale."
To learn more about SOC Prime or to request a demo, please visit: https://socprime.com/.
About SOC Prime
SOC Prime is the only Threat Detection Marketplace where researchers monetize their content to help security teams defend against attacks faster and more efficiently than ever. Powered by its Detection as Code platform, SOC Prime curates the most up-to-date Sigma-based threat detection content from over 300 researchers and natively delivers it via subscription to 20+ SIEM and XDR platforms at more than 6,000 enterprises, governments and MDRs worldwide. Founded in 2015, SOC Prime is backed by DNX Ventures, Streamlined Ventures and Rembrandt Venture Partners. For more information, visit https://socprime.com or follow us on LinkedIn or Twitter @SOC_Prime.