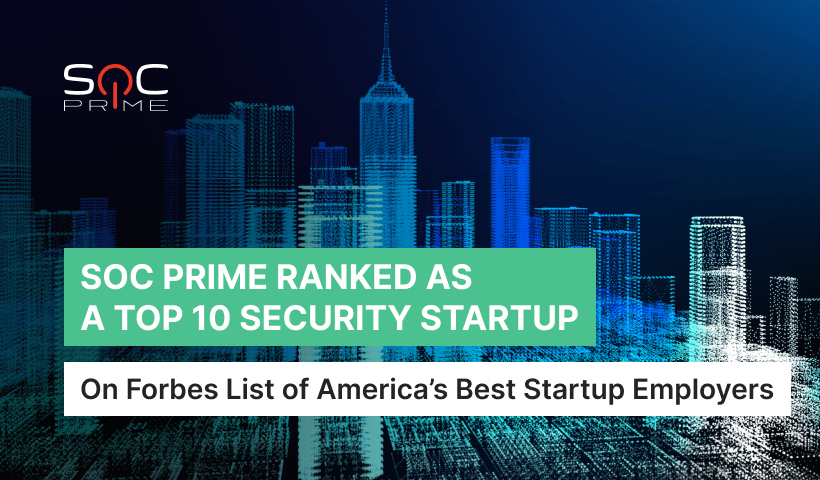 We are thrilled to announce that SOC Prime has been recognized on the Forbes list of America's Best Startup Employers. This renowned award presented by Forbes and Statista Inc., the world-leading statistics organization, ranks the top 500 innovative and fast-growing companies with exceptional culture and work environments.
"It is an honor to be recognized among the top 10 employers in security by Forbes," said Andrii Bezverkhyi, Founder and CEO of SOC Prime. "SOC Prime plays a critical role in enabling the global cybersecurity community to amplify the great work they do. Today, this is more important than ever. We would not be able to accomplish this without our dedicated global employees that foster a culture of respect, ownership, and empowerment. We are tremendously proud of our team for this accomplishment and greatly appreciate the recognition from Forbes."
The Forbes list recognizes the top ranking companies by evaluating employer excellence based on an algorithm that measures three categories: employee satisfaction, employee reputation, and company growth.
SOC Prime, headquartered in Boston, US, is powered by an international team of seasoned experts whose mission is to enable collaborative cyber defense. SOC Prime's corporate culture drives trust, accountability, and shares responsibility at its core, which fuels our mission to transform threat detection and turn collaboration into security innovation. During the last year, SOC Prime has nearly doubled its employee population and continues to expand its international team with renowned professionals in cybersecurity.
For more information on SOC Prime's growth and culture, please visit: www.socprime.com