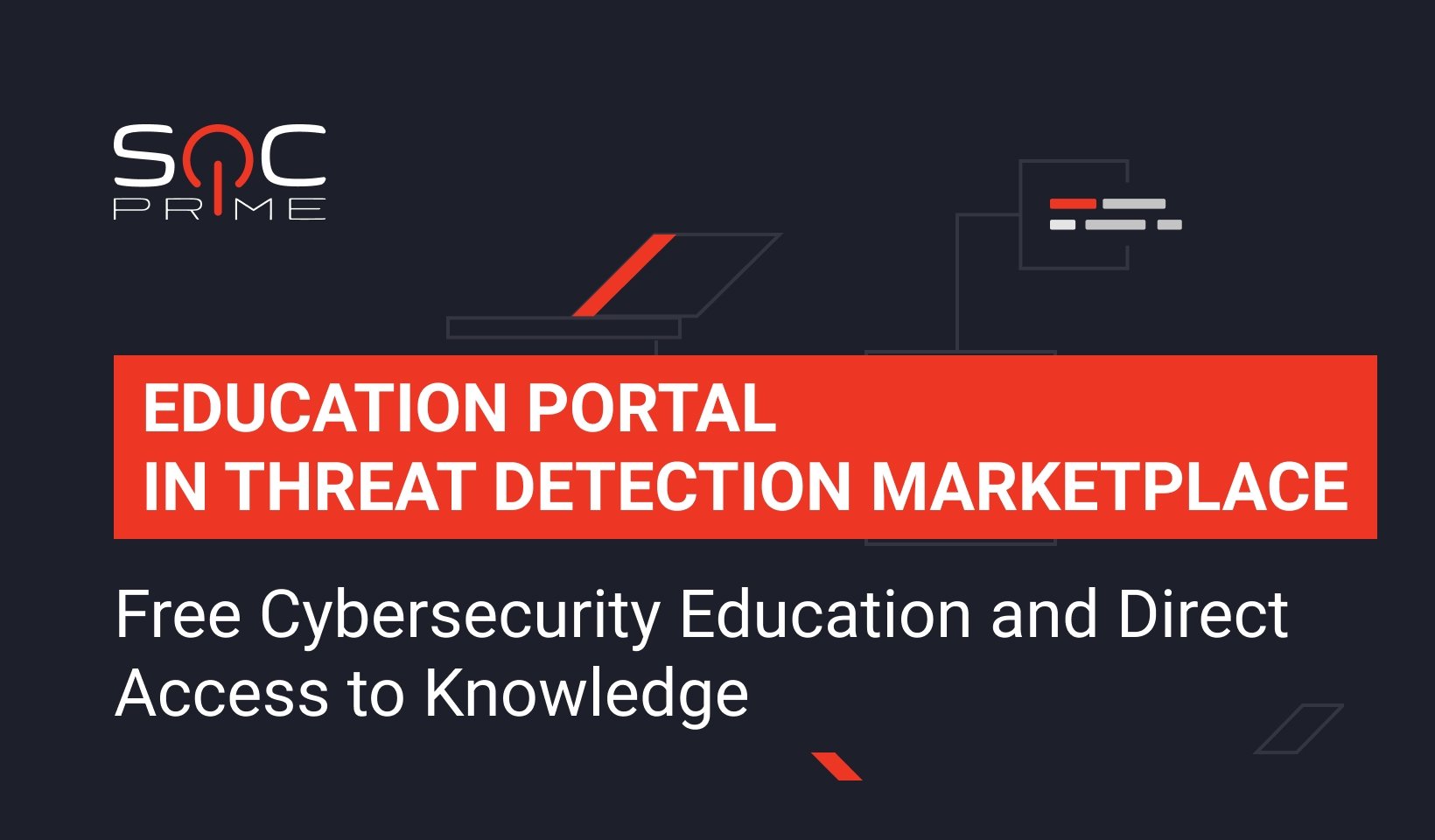 One of our key missions is not only to make threat detection easier by delivering Detection as Code operations to the worldwide cybersecurity community, but also to help security enthusiasts hone their threat hunting skills and gain access to a broad collection of FREE educational resources. 
Driven by this mission, we've created the Education Portal that offers swift and simple access to knowledge we are delighted to share with all community members.
The Education Portal powered by Threat Detection Marketplace includes the following sections:
Explore

— read the insightful how-to deployment guides for various platforms and content types

Watch

— see the platform capabilities in action by getting free access to online educational event recordings from the SOC Prime's extensive webinar collection and register for a new event in a matter of clicks
Security enthusiasts who already have their active Threat Detection Marketplace accounts automatically receive access to the Education Portal. Users who are new to our Detection as Code platform can seamlessly access the Portal through a separate registration flow. Once registered, you can use your Education Portal account to join any upcoming online event hosted by SOC Prime, simultaneously reaching all education resources available through the Portal. There is no need to fill out dozens of nagging registration forms to access new knowledge and enhance your professional cybersecurity profile.
Explore
In this section of the Education Portal, security practitioners can delve deep into the content guides for various SIEM, EDR, and NTDR solutions to receive detailed guidelines on how to find the most relevant content using Threat Detection Marketplace, deploy it to the security tool in use, and be all set to hunt for threats. Currently, we have guides available for these platforms and related content types:
Azure Sentinel Playbook

Elastic Stack:

Parser/Config

Template

ML Receipt

Splunk

Sysmon Rule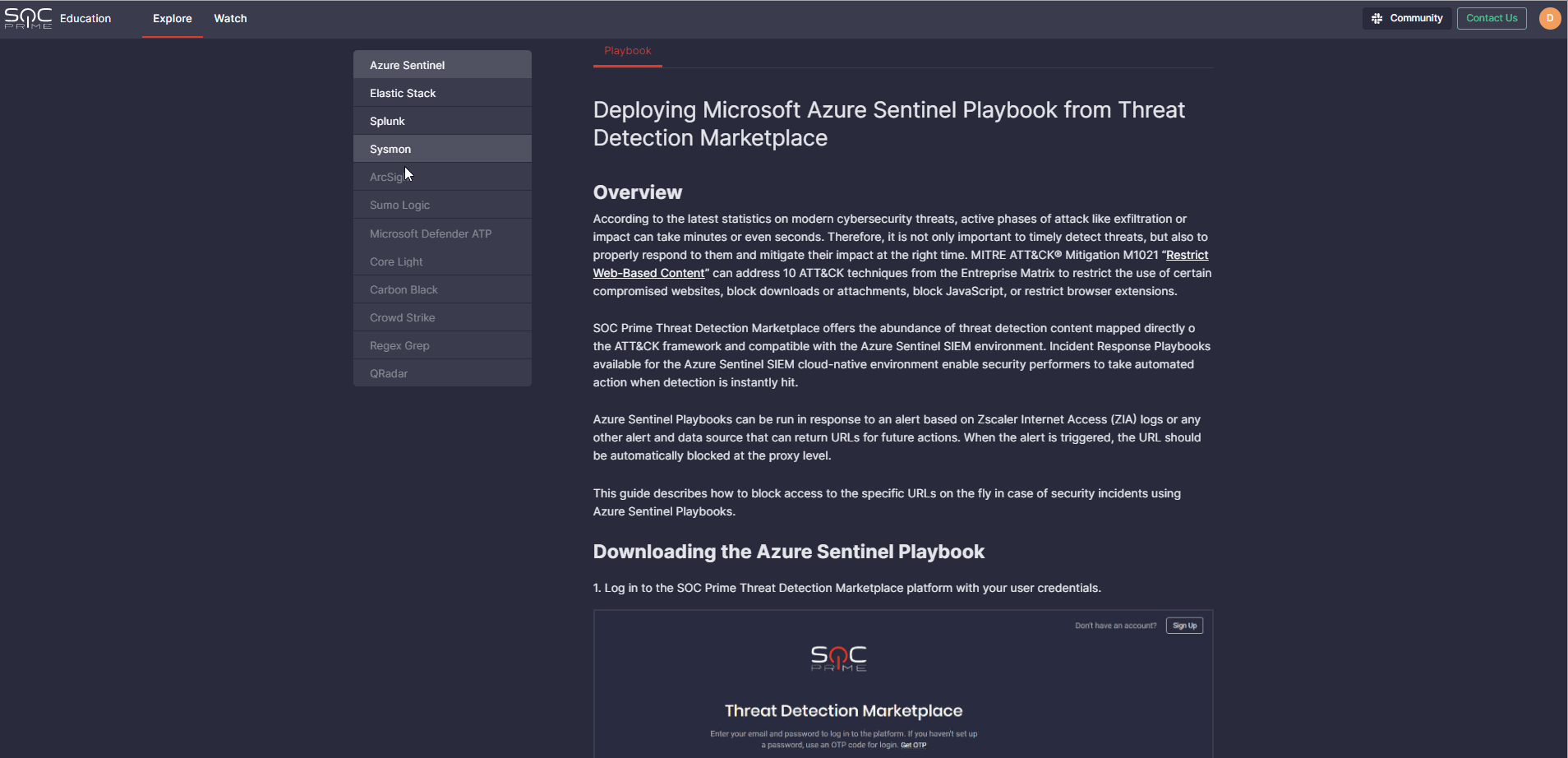 Watch
This section of our Education Portal can fuel the passion for knowledge of even the most demanding security enthusiasts. Here you can find video recordings of deep dive webinars and other educational events hosted by SOC Prime and our partners.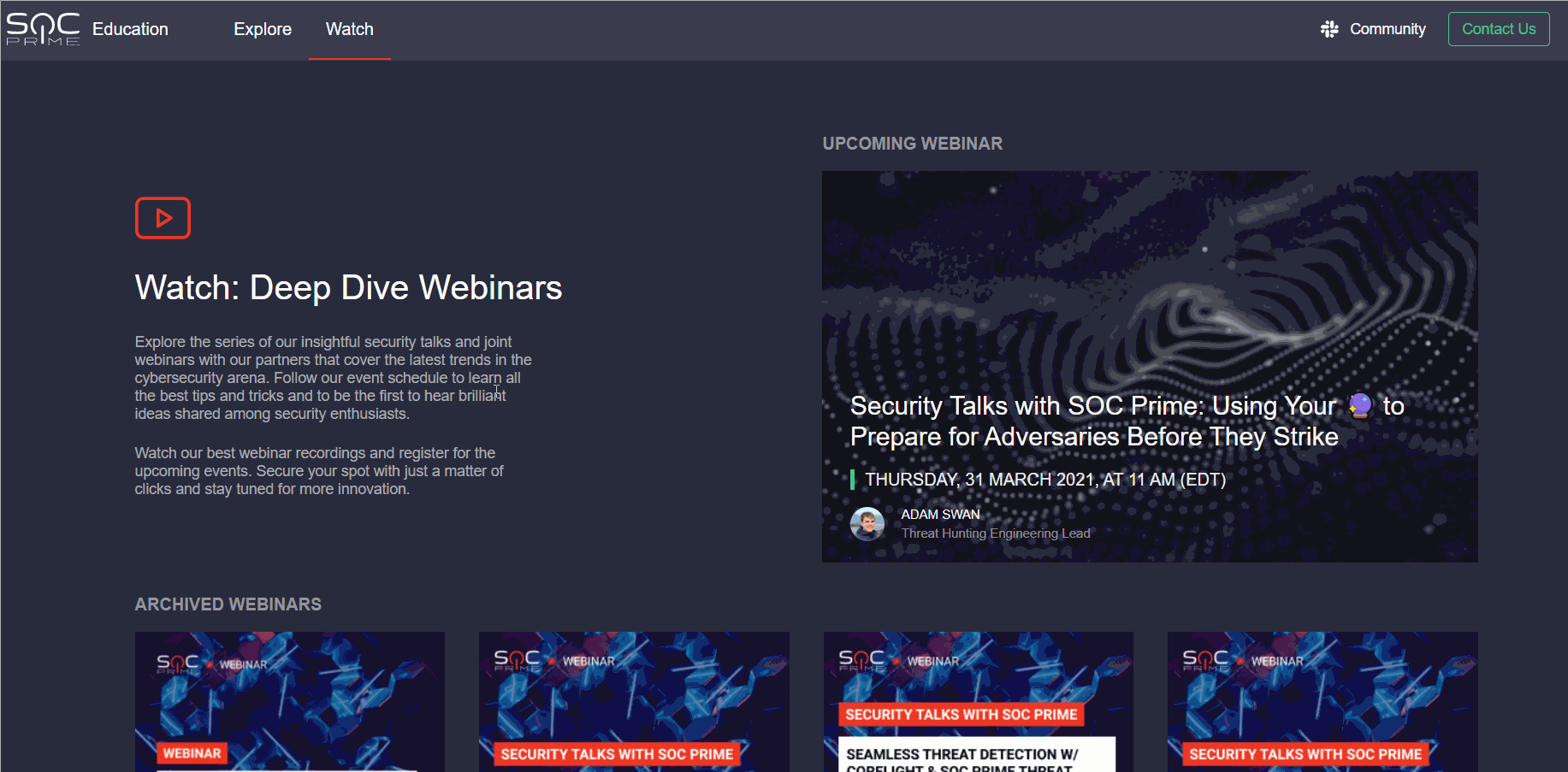 We also strive to help security performers stay constantly updated on our upcoming events and enable them to register for webinars on the fly with just a matter of clicks. With this in mind, we've come up with the simplified event registration. You can now register for the upcoming event by clicking the Attend Online button right from the event page and that's it — you're all set. The pop-up generates the webinar link on the fly that can be copied and saved for later to join the event. After registration, security performers automatically receive the confirmation letter with the details of the upcoming event and the webinar link, so they have all the necessary event details at hand. 
Subscribe to Threat Detection Marketplace, the world-leading Detection as Code content-as-a-service (CaaS) platform that aggregates the world's largest library of curated SOC content mapped directly to CVE and MITRE ATT&CK® frameworks. Feel enthusiastic about creating your own detection rules? Join our Threat Bounty Program and get rewarded for your input.