This article highlights the original research conducted by CERT-UA: https://cert.gov.ua/article/37688 
On March 9, 2022, the Computer Emergency Response Team of Ukraine (CERT-UA) reported that Ukrainian government bodies were hit by a cyber-attack using the FormBook/XLoader malware. The malware was delivered if the user opened a malicious email attachment.
FormBook and its more recent successor XLoader are information stealers distributed as Malware-as-a-Service (MaaS). They are used to get user input, take screenshots, and even search for and interact with files on the infected machine.
Ukrainian Government Targeted by FormBook/XLoader: CERT-UA Research
An email with the subject "Letter on approval of cash provisioning" was massively sent to Ukrainian government bodies. The content of the email is related to the war and providing financial aid (apparently, the text was automatically translated into Ukrainian).
The email has an XLS attachment named лист підтримки.xlsx. If opened, it activates a macro that downloads and runs FormBook/XLoader v2.5 malware. Yet, the document's bait content does not seem to be relevant for Ukrainian citizens.
The malware steals credentials stored in the software on the affected machine and sends them to the attackers' command-and-control (C&C) server.
Such attacks have a systemic nature and are associated with the activity cluster tracked under UAC-0041 identifier.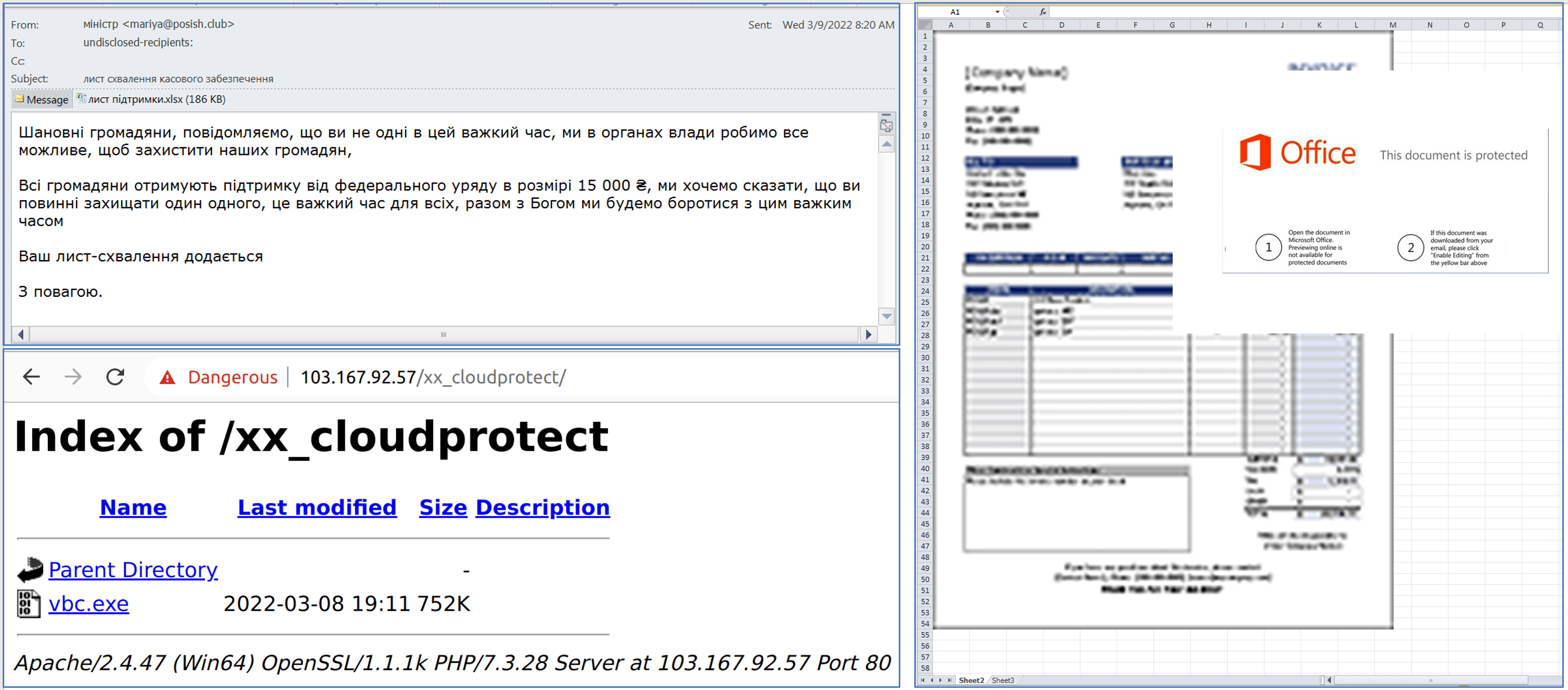 Graphics provided by CERT-UA to illustrate the cyber-attack with FormBook/XLoader delivered via email attachment
Global Indicators of Compromise (IOCs)
Files
93feeeab72617e4f5630fd79f2fdd4b6    лист підтримки.xlsx
95d60664267d442e99c41e2aa3baff68    vbc.exe
5a2c58b9ad136ecaea903e47ca7d0727    formbook.exe (Formbook)

Network Indicators
mariya@posish[.]club
104[.]168.247.233
hxxp://103[.]167.92.57/xx_cloudprotect/vbc.exe
103[.]167.92.57
gobits3[.]com

The list of false domain names:
humamzarodi[.]info
cillacollection[.]com
phy[.]wiki
londonkhaboos[.]com
robostetics[.]com
bryanheritagefarm[.]com
writingdadsobituary[.]com
uitzendstudent[.]online
kaeltefath[.]com
ooop63[.]website
oncasi-tengoku[.]com
weihiw[.]store
gameshill[.]net
clublebron[.]com
fromuktosa[.]com
hilversumrp[.]com
formigocerdanya[.]com
jokeaou[.]com
bvgsf[.]xyz
reallyreadyservices[.]com
zrbusiness[.]com
homephotomarketing[.]com
evpunk[.]com
hermanmitchels[.]com
globalprotectionllc[.]com
carlab[.]rentals
aocpaysage[.]com
g3kbwq[.]xyz
ojosnegroshacienda[.]com
greenvilletaxfirm[.]com
circuitoristorazione[.]com
chicklet[.]biz
allegiancebookkeeper[.]com
xyyvivo[.]com
cassandracheatham[.]com
gobits3[.]com
upcxi[.]xyz
adjd[.]info
hdwix[.]online
sbxtv[.]info
abodhakujena[.]com
yhomggsmtdynchb[.]store
jeffreylau[.]xyz
lovelypersonal[.]com
lwmdqj[.]com
tapelm[.]com
ulasan-online[.]com
roleplayhr[.]com
avilarts[.]com
marygracerenella[.]com
yellowumbrellamarketing[.]com
ilyapershin[.]com
bellkennedy[.]online
muhammadsaqib[.]tech
certuslogistics[.]com
unforgettableamour[.]com
jtelp[.]com
movinonuprva[.]com
xn--ltda-epa[.]com
knolmail[.]xyz
houstonorganicpestcontrol[.]com
befancie[.]com
typejitem[.]store
zqt2578[.]com
astrologyplatform[.]com

Hosts Indicators
%PUBLIC%\vbc.exe
IOC-Based Hunting Queries to Detect FormBook/XLoader
To enable security practitioners to automatically convert the above-mentioned IOCs into custom hunting queries ready to run in nearly 20 most popular SIEM or XDR environments, SOC Prime Platform offers the Uncoder CTI tool — now available for free for all registered users through May, 25, 2022.

Sigma Behavior-Based Rules to Detect FormBook/XLoader
To detect FormBook/XLoader behavior patterns and activity associated with this malware, security professionals can use the dedicated Sigma behavior-based content published in the SOC Prime Platform:
FormBook Malware Behaviour (ColorCPL-LSASS Spawns CMD)
Suspicious execution of colorcpl.exe (via cmdline)
MITRE ATT&CK® Context
To help security practitioners better understand the context of an attack using FormBook/XLoader, all Sigma-based rules that detect it are aligned with the MITRE ATT&CK framework addressing the following tactics and techniques:
Command and Scripting Interpreter (T1059)