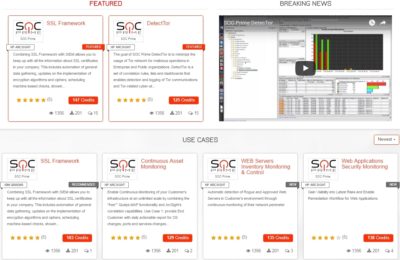 A first security-centric Use Case exchange platform that is tailored for market leading SIEM technologies that have been around for a decade or even more. Use Cases solve practical tasks of cyber security by leveraging Machine Learning, statistical profiling, sophisticated integrations with Threat Intelligence feeds and exchange platforms. Platform development is fueled by SOC Prime team, our channel and integration partners as well as strategic technology alliances with Hewlett Packard Enterprise Security, IBM Security, Splunk, Qualys API and more security industry leaders joining shortly. This allows us to develop the next generation of security detection capabilities for any company out there that already has a SIEM and is at any stage of the project: from rollout and PoC all the way to mature SOC installations and MSSP environments.
Platform is based on principles of collaborative security allowing cyber security experts worldwide to work for common goal of responding to incidents and risks at their organizations, reducing amount of detection false-positives. A common example of Use Cases addressed range from SSL Framework (a freemium case to monitor the security status of SSL certificates) to advanced content tailored to detect malicious operations conducted over Tor network, Ransomware campaigns and activities, DNS anomalies or even simple statistical and behavioral controls for Microsoft Windows.
"Platform preliminary registration is now open! Keep track of our updates as first users will get unique rewards such as free Use Cases, promotions and access to premium content. More than 30 organizations worldwide have already expressed their interest for participation and we keep on counting. We are thrilled to embark on the journey to make the world a more secure space, at least in the cyber domain!"

 Andrii Bezverkhyi, on behalf of SOC Prime team.