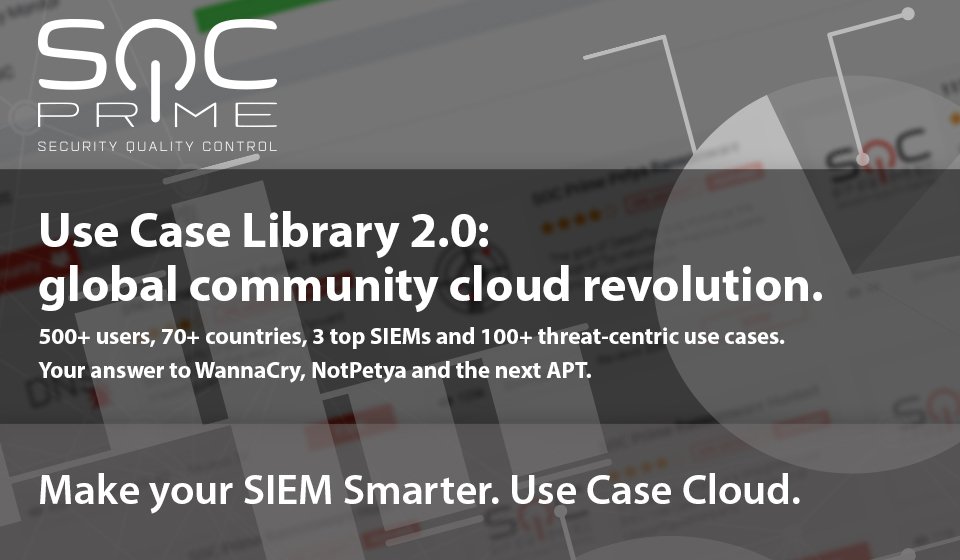 Delaware, USA – September 11, 2017 — SOC Prime announces the release of Use Case Cloud. UCC platform has undergone significant changes and acquired many new features that will help improve the efficiency of your SIEM and greatly facilitate SOC operations. Make your SIEM smarter.
Now SIEM content is integrated with MITRE ATT&CK. This will allow knowing exact attacker tactics and techniques your SOC can discover. New algorithms and directories were updated and added to Use Case Cloud, allowing you to automate processes and get more accurate data. In addition, the information on the use case you are interested in is more detailed and you can compare the content of Basic and Advanced use case with one click.
The platform become more friendly to developers. Now you can use it as Personal digital safe for your SIEM content due to the implementation of AES-256 encryption. QA and performance test lab for SIEM content is available now, as well as automatic SIEM content documentation function. You also can independently publish your use cases and always be aware of any user activity regarding your SIEM content.
Use Case Library platform with analytical content for leading SIEM technologies such as HPE ArcSight, IBM QRadar and Splunk was launched more than a year ago. Currently, Use Case Cloud platform contains more than 100 SIEM use cases and 500+ UCL users from 70+ countries around the world appreciated its capabilities.
Join the global community for Cyber Security Use Cases: https://my.socprime.com/tdm/
Ready to try out SOC Prime TDM? Sign up for free. Or join Threat Bounty Program to craft your own content and share it with the TDM community.