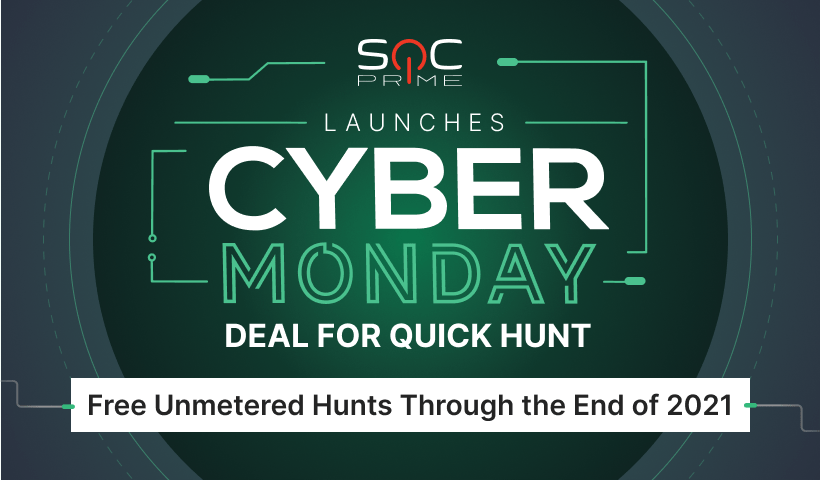 We are thrilled to announce an amazing Cyber Monday deal for Quick Hunt, a new cutting-edge module of the SOC Prime's Detection as Code platform empowering any Blue Teamer, whatever their level of experience in the field, to take up hunting for threats in their SIEM or EDR environment with just a couple of clicks.  
Starting from November 22, 2021, SOC Prime users receive a time-limited Cyber Monday offer for unmetered hunts using all Community content available in the SOC Prime's Detection as Code platform by the end of December 2021.
Cyber Monday Deal Benefits
With the Cyber Monday deal, threat hunters can choose any Community queries from the extensive Threat Detection Marketplace content repository, select the platform and environment, and drill down to search for threats they anticipate most. 
Quick Hunt currently supports the industry-leading SIEM and EDR solutions, including Microsoft Azure Sentinel, Google Chronicle Security, Humio, Splunk, Elasticsearch, and CrowdStrike enabling security practitioners to choose an environment matching their security needs. 
The Cyber Monday promotion breaks the limits on the number of daily hunts allowing users to run as many sessions as they wish and easily switch between platforms and environments, which can be a plus for security teams leveraging cross-tool infrastructure. As a bonus, we offer a guided session with our Customer Success and Professional Services Teams to help organizations set up their SIEM or EDR environment, so they can identify the most relevant threats using the selected queries more efficiently than ever before.
How to Get the Cyber Monday Deal
Both newcomers to SOC Prime's Detection as Code platform and security practitioners with the existing account, can take advantage of the Cyber Monday deal beginning on November 22, 2021. 
To join the platform, sign up via the following promo link. Your promo code will be automatically activated. 
Note: Only users with the corporate email address are eligible for the promotion.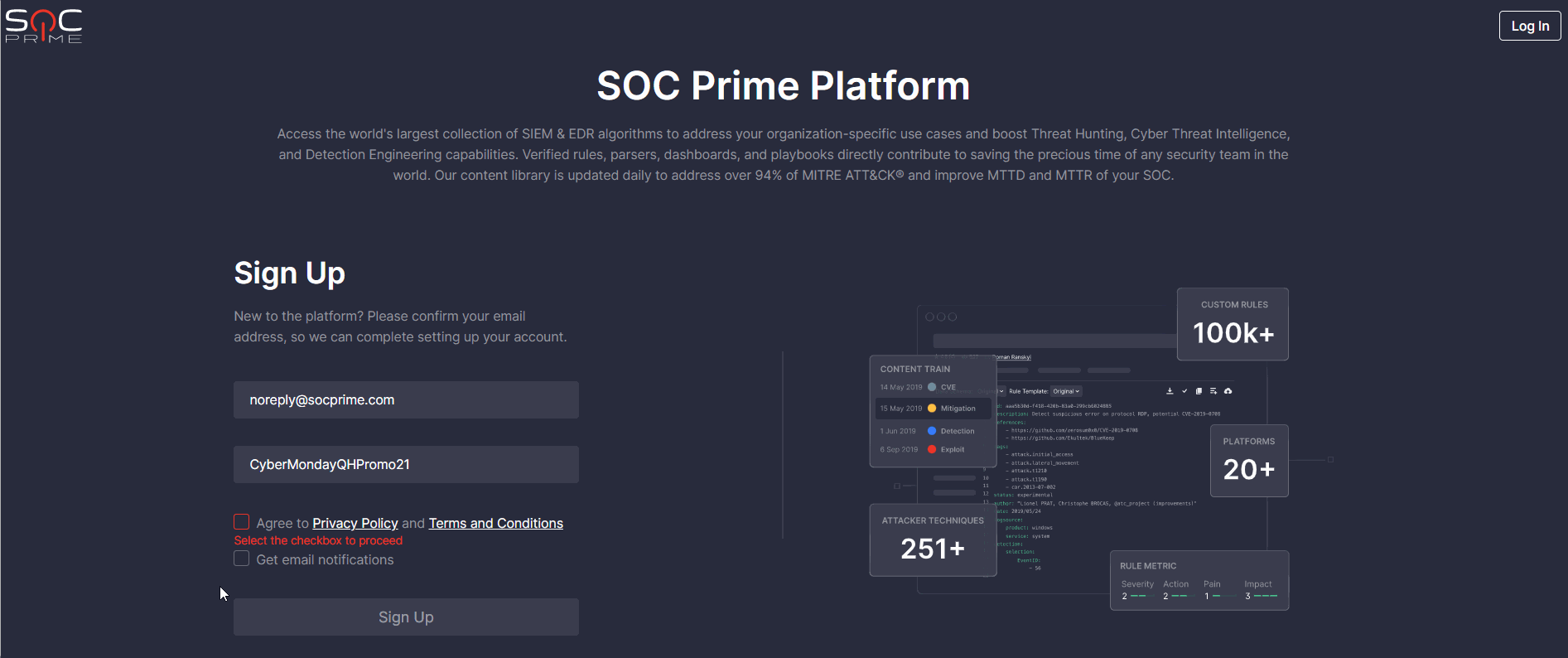 You can also go directly to the platform signup page and manually enter the "CyberMondayQHPromo21" code by clicking the "Have a Promo Code?" button.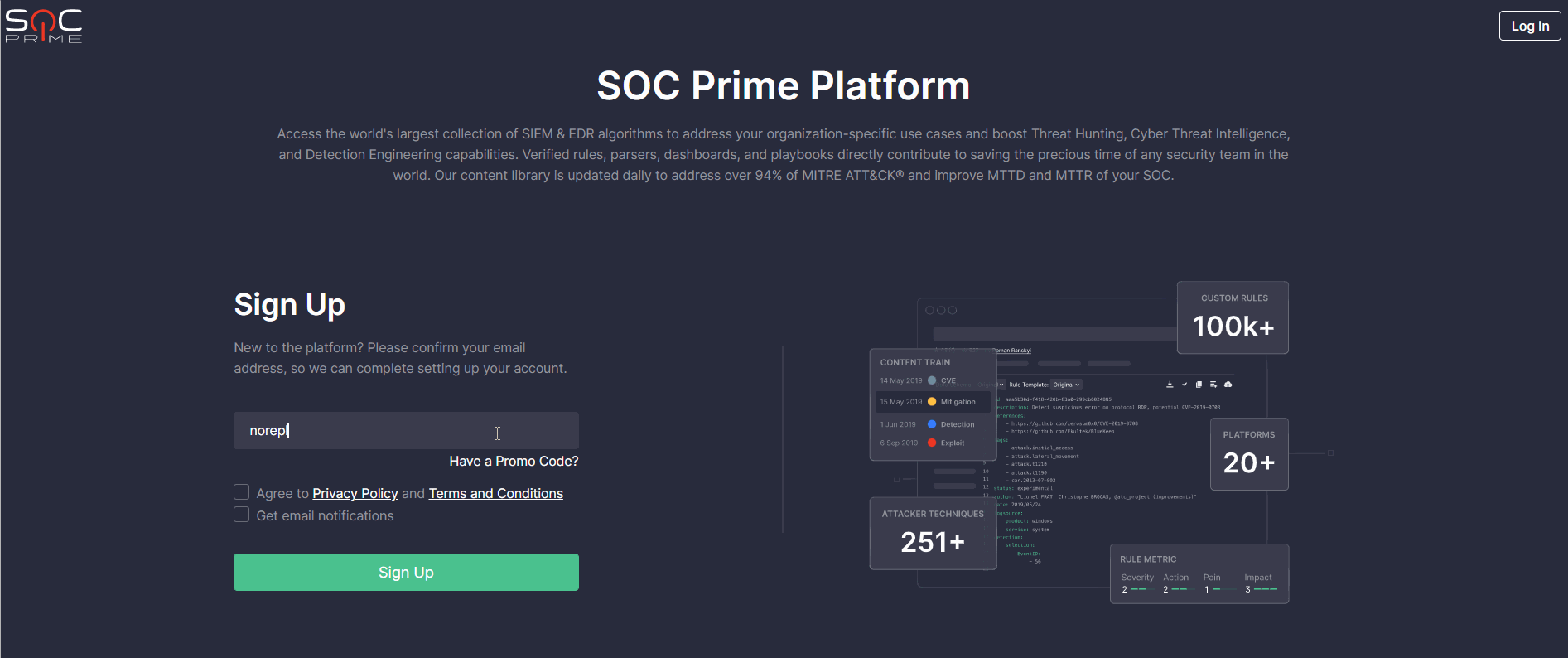 SOC Prime users who have an account linked to a corporate email address, can activate the Cyber Monday promo code in the platform Account Settings. Find the Additional Settings section, enter the "CyberMondayQHPromo21" code, and click Activate.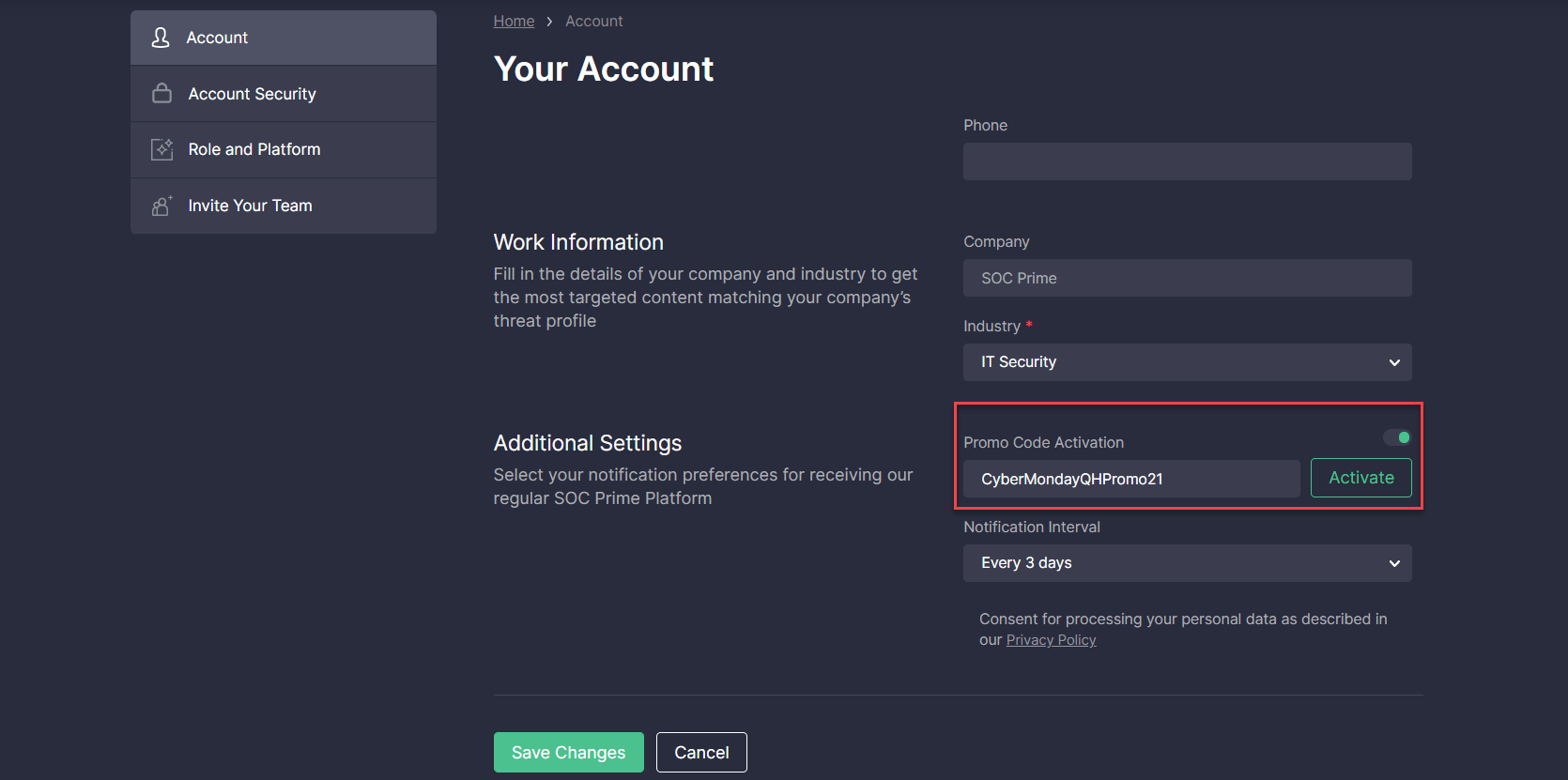 Following the successful promo code activation, SOC Prime users can go to the Quick Hunt module and start hunting with the selected Community queries on the spot.
Note: Security practitioners with the Limited Access subscription can change their email address to a corporate one in Account Settings to be able to benefit from the Cyber Monday offer.
As a bonus to the Cyber Monday promotion, security teams can request a guided expert session right from the Journey page. Just click the Contact Expert button and choose a date and a time slot, and we'll reach out to you shortly to help enhance your threat hunting experience.
Note: Before booking a session with the SOC Prime experts, make sure you have activated your Cyber Monday promo code for SOC Prime's Detection as Code platform.
About Quick Hunt
Quick Hunt module powered by SOC Prime's Detection as Code platform for collaborative cyber defense, threat hunting and discovery delivers one-click threat hunting capabilities to 20,000+ security practitioners connected to the global cybersecurity community. The module unlocks access to nearly 5,000 top-rated queries based on the peer-driven feedback to enable the most efficient threat hunting experience. 
The feedback loop comes from three sources: the SOC Prime Lab, selected MDR and MSSP partners, and the threat hunting community based on the false positive and true positive rates, benign volume, and the number of hunting hits. By sharing feedback on the most recent hunting experience with the module, security practitioners contribute to the continuous content quality improvement and join the global community effort to build a safer future. 
Striving to make threat detection easier, faster and more efficient? Explore the world's first platform for collaborative cyber defense, threat hunting and discovery to streamline your SOC operations and take your threat hunting to the next level. To boost your IOC-based threat hunting capabilities, try out the CTI.Uncoder.IO tool for generating custom IOC queries ready to run in your SIEM and XDR — now available for free and without registration.