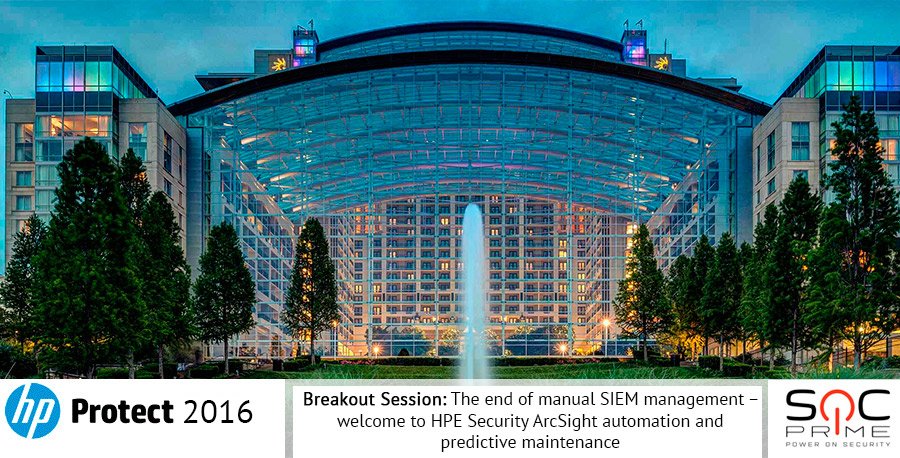 LONDON, UK. –  August 04, 2016 – SOC Prime, Inc. announced that its CEO Andrii Bezverkhyi was invited to join ArcSight Technical Advisory Board this year at HPE Protect 2016. 
ArcSight Technical Advisory Board is comprised of security leaders and experts who have proved to have both knowledge and vision in the cybersecurity world. The advisory board meets at the annual HPE Protect conference to discuss the latest trends, upcoming features, long-term plans and overall direction. It is a great chance to provide feedback on the real-life application and utilization of ArcSight capabilities as well as suggest new venues for development.
"Technical Partnership with HPE is one of our best decisions," said Andrii. "We are constantly working together to stay at the cutting edge of the information security. This invitation is a great honor I am looking forward to participating in the Technical Advisory Board and learning how we can meet the growing security challenges together."
Our representatives will also stay for the whole duration of the Protect conference ready to answer any question or conduct personal introductions to our products and services. Come by our booth, talk to experts, see our products. Don't forget to attend our breakout session "The end of manual SIEM management – welcome to HPE Security ArcSight automation and predictive maintenance" Session ID: B9986. Or simply schedule a meeting with our reps via sales@socprime.com.