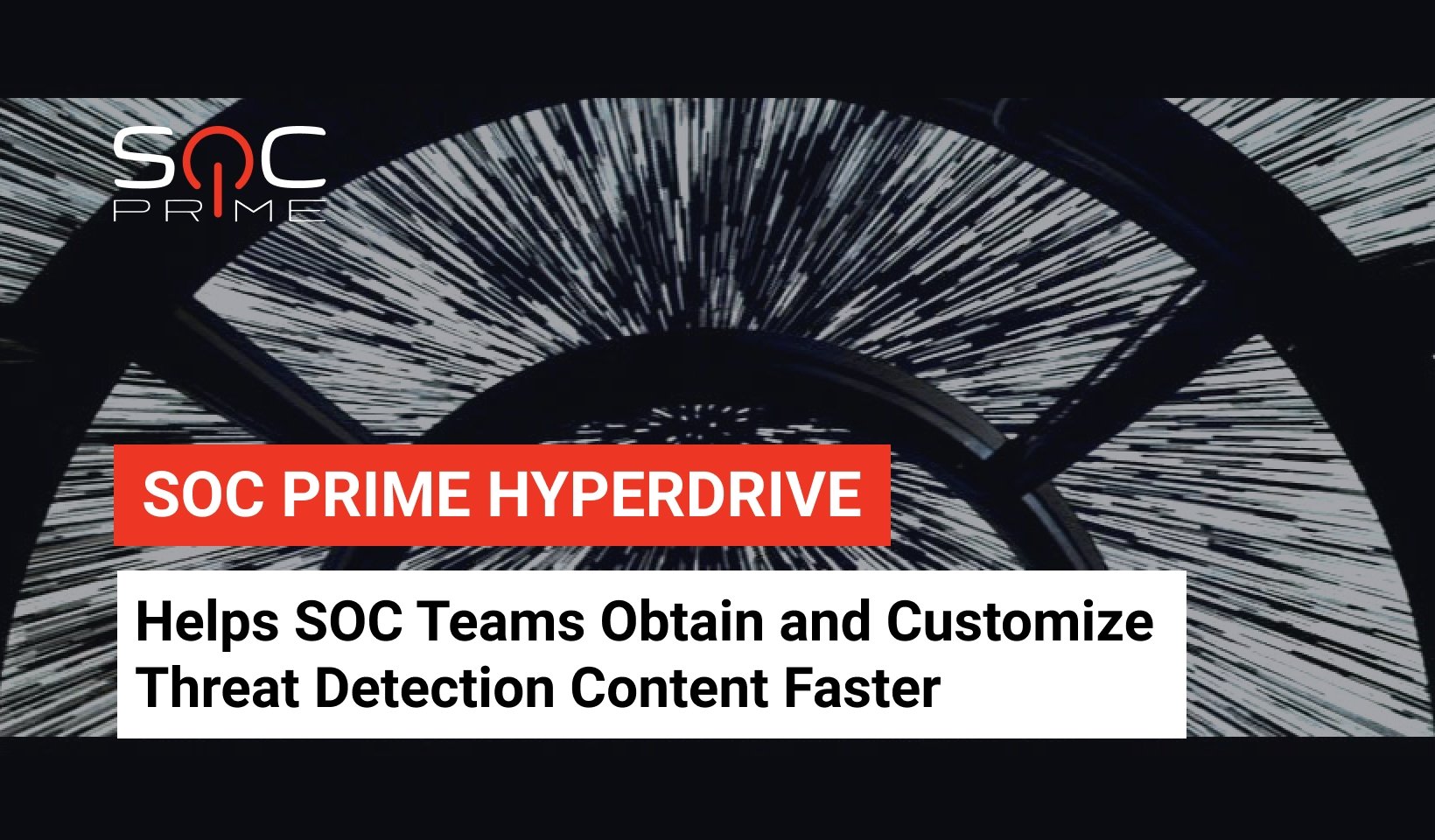 Boston, MA, November 25, 2020 (GLOBE NEWSWIRE) — SOC Prime, the leader in Continuous Security Intelligence, today has made generally available the Hyperdrive add-on for its Threat Detection Marketplace, the world's largest platform for SOC content. This newly released add-on helps companies to rapidly build up cyber defense capabilities in the specific threat area relevant to their business. With Hyperdrive, organizations enable security use cases end-to-end across people, processes, and technology, at hyperspeed and with no extra costs for managed services.
Leveraging the Hyperdrive add-on with the company's active Threat Detection Marketplace subscription plan, organizations can gain the following benefits:
Fast-tracked delivery of customer-specific use cases, including curated rules, rule packs, parsers, configs, search queries, Machine Learning models, and Incident Response Playbooks

Integration with SIEM, EDR, or NTDR tools in use, including initial configuration, deployment, and fine-tuning according to

an agreed SLA

Getting the cyber defense capabilities from point A to point B in a matter of weeks, at a fraction of the cost of professional service delivery

Onboarding and continuous training sessions directly from our Content Development Team experts
InfoSec teams can accelerate their daily operations with the threat-specific SOC content delivered genuinely at lightspeed along with initial configuration and continuous support. In practice, this translates into enabling cyber defense capabilities fast, cost-efficiently, and at top-notch quality, literally jumping from point A where capability did not exist to point B where the company's security team knows exactly how to defend.
"Hyperdrive combines the most highly demanded SOC content deliverables with our crowd-sourced Threat Bounty initiative, world-class content support of the SOC Prime Content Team and expertise of the most seasoned SOC practitioners on the planet in one add-on helping you to stay secure and save time and money," said Andrii Bezverkhyi, Founder and CEO of SOC Prime.
With Hyperdrive, organizations obtain much more than streamlined SOC content delivery — SOC Prime builds the process of accelerated cyber defense capabilities tailored to the company's needs. Hyperdrive implements the following use cases to empower the organization's security capabilities in a matter of weeks:
Proactive Exploit Detection

Cloud Security Monitoring

Active Directory Security

Threat Hunting 

Automated Compliance Controls
Hyperdrive is now available as an add-on license to the company's active Premium Threat Detection Marketplace subscription tier. Contact sales@socprime.com for more details.
About SOC Prime Threat Detection Marketplace
SOC Prime Threat Detection Marketplace is the leading SaaS platform for SOC content, containing over 81,000 detection and response algorithms aligned to the MITRE ATT&CK(™) framework and compatible with 20+ most popular SIEM, EDR, and NTDR security solutions. With Threat Detection Marketplace, organizations can automatically keep their threat detection capabilities up to date for critical vulnerabilities and exploits, APT, cybercrime, the most common enterprise software, as well as IaaS, PaaS, and SaaS.