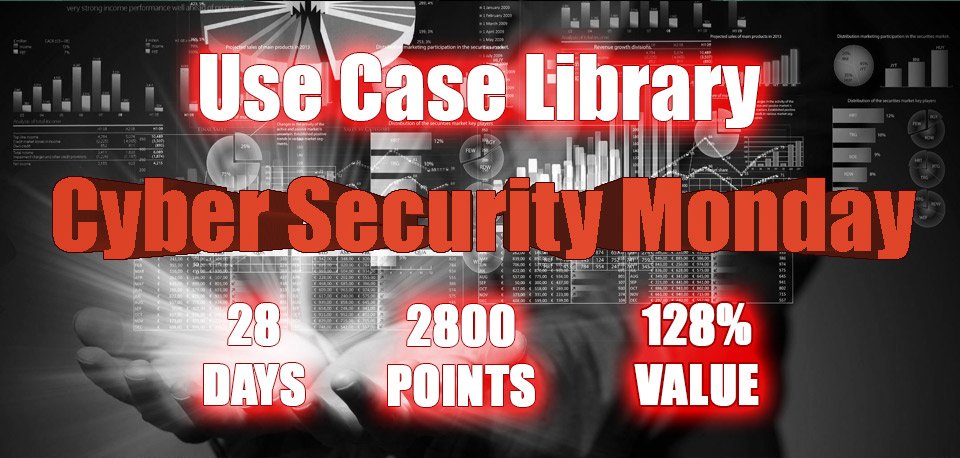 LONDON, UK. – November 28, 2016 – SOC Prime, Inc. announces a Cyber Monday Sale for the Use Case Library Packages.
Today we celebrate "Cyber Security Monday" with a very limited offering for Use Case Library. SOC Prime team has 3 special proposals valid immediately and until December 3rd.
Firstly, Cyber Day matches November 28th this year, so any UCL member who invites a friend will receive free 28 days of UCL subscription and 2800 points! So if you have a friend who works in cyber security field in a peer organization that is not yet part of UCL, just drop him an invite until December 3rd and you both will receive the reward.
To be eligible for the promotion your friend must add "CSM" at the end of their company name, SOC Prime will then verify your invitation.
And if you're still undecided on which UCL subscription is right for you for next cyber year, you can get much better value proposition, because… any Use Case Library subscription purchased from November 28th to December 29th is eligible for +28% extra value on Use Cases. Depending on the subscription type, organization will be eligible for up to 8 Basic and up to 5 Advanced Use Cases developed & supported by SOC Prime.
A quick recap of recent additions to UCL:  with release of UCL 1.1 commercial subscriptions are now available for purchase! Please contact SOC Prime partners in your region or feel free to ask us directly for pricing advisory.
As of today, UCL accounts for 270+ active users from 59+ countries, and we are happy to share that we receive more and more feedback and active community members every day.
Last but not least, Emergency Threat Counter ("ETC" for short) content packages are now available, aimed to provide detection capabilities for advanced threats to any organization worldwide as quick as possible. A first successful example of ETC Use Case is Mirai Botnet Detection use case by our technical partner HakDefNet, which includes a list 300 000 IP addresses compromised IoT devices that are part of botnet, available immediately for ArcSight, QRadar and Splunk.
We're looking forward to meet you in Use Case Library. Register here.
/Stay safe
Ready to try out SOC Prime TDM? Sign up for free. Or join Threat Bounty Program to craft your own content and share it with the TDM community.