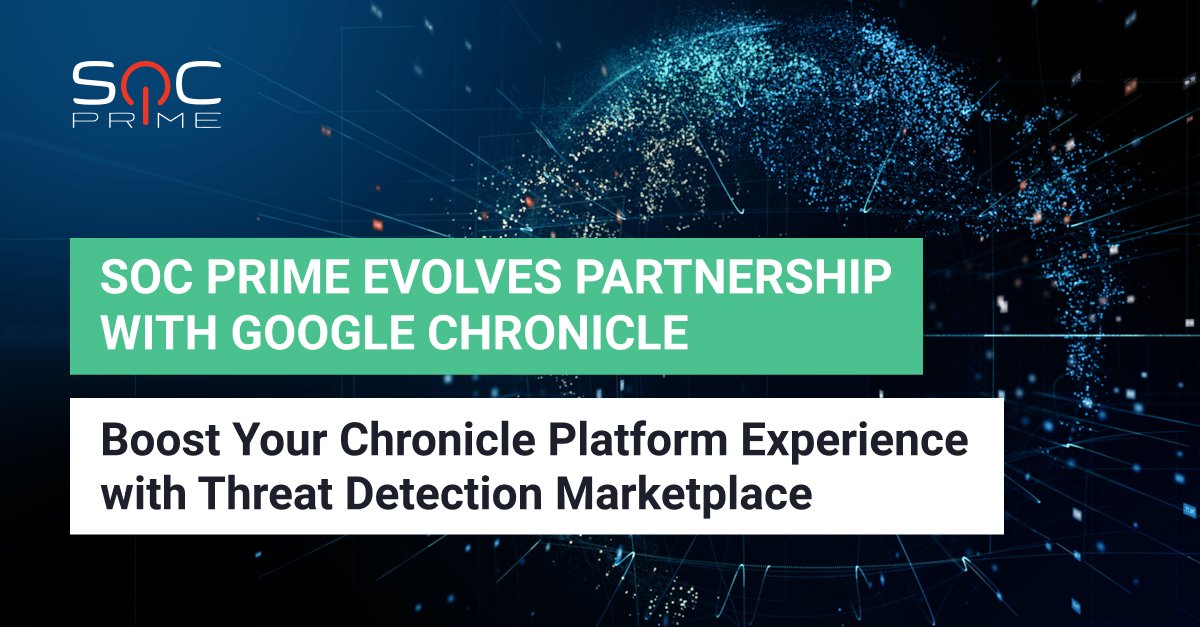 At SOC Prime, we actively broaden the support of open source projects and constantly enrich our SIEM and XDR stack with cloud-based solutions. Starting from 2020, we evolve the partnership with Chronicle, Google Cloud's security analytics platform, and expand our Detection as Code content base with new YARA-L 2.0 detection rules perfectly tailored to defend against modern threats. Read more about SOC Prime's partnership with Chronicle in the recent blog article from Google.
Threat Detection Marketplace enables full Continuous Integration (CI) / Continuous Delivery (CD) workflow for cyber defense operations by providing seamless deployment and customization of cutting-edge cross-tool SOC content like Queries, Rules, Functions, and Incident Response Playbooks mapped to the MITRE ATT&CK® framework. Infuse your Chronicle instance with enriched, constantly curated content from Threat Detection Marketplace to hunt out threats at Google speed!
Chronicle Integration with Threat Detection Marketplace
As of April 2021, you can reach 500+ Community YARA-L rules written by the SOC Prime Team already available in Threat Detection Marketplace. Also, Chronicle customers can access these free detections at Chronicle GitHub repository powered by the Chronicle Detect rules engine. 
SOC content written in the generic YARA-L threat detection language enables security teams to smooth out the development of new rules and their deployment to the Chronicle platform.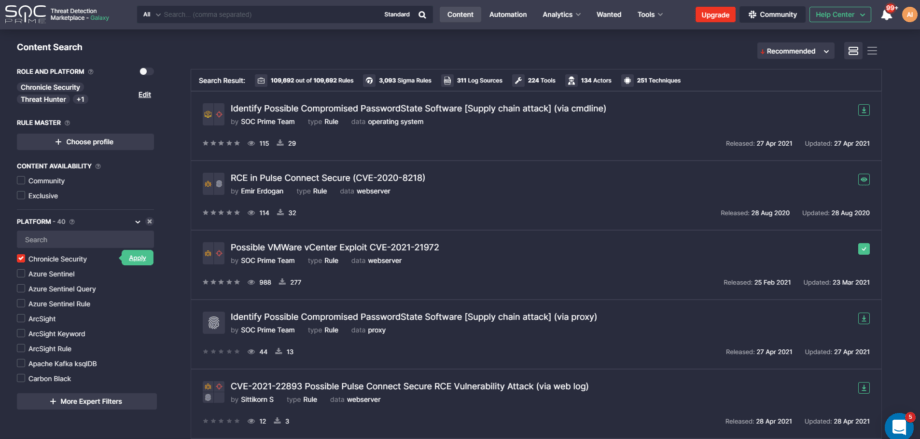 YARA-L based rules in Threat Detection Marketplace fit into the following use case categories: 
Chronicle customers leveraging Threat Detection Marketplace can streamline their content search using the Google Chronicle sorting option tailored directly to meet their security needs. The enhanced content boosting functionality enables viewing the most relevant content on top of the list.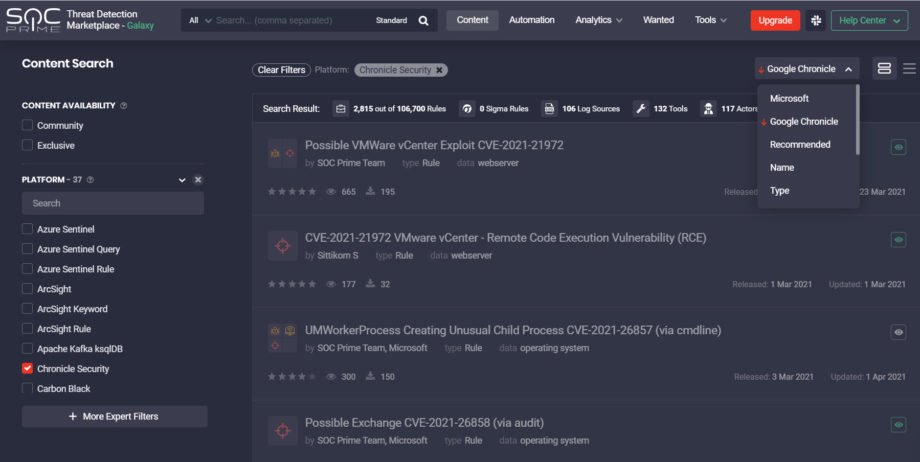 Open Source Support and Contributor Recognition
Being part of the open source community means giving credit to all content authors. Starting from July 2020, we release all open source detections with a link to the Detection Rule License (DRL) or another appropriate license to recognize each community content contributor. All YARA-L detections available in Threat Detection Marketplace contain the author field within the source code that explicitly points to the content contributor.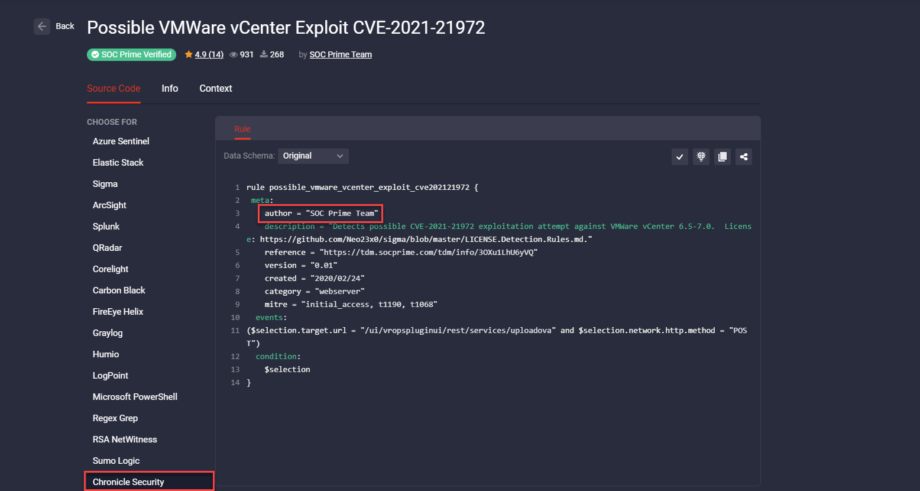 SOC Prime Team contributes to the Google Chronicle repo on GitHub by constantly enriching it with the collection of curated detections written in the generic YARA-L 2.0 format. The entire collection of SOC Prime's YARA-L rules are accessible in the soc_prime_rules folder of the Chronicle GitHub repository. Security practitioners can deploy these YARA-L detections to their Chronicle instance via the Detection UI or the Chronicle Detection API.
Helping Security Operation Teams to break the limits of being dependent on a single solution for threat detection, SOC Prime has developed Uncoder.IO, a free online translator tool that converts Sigma rules into other language formats on the fly. Uncoder.IO currently supports translations from Sigma to YARA-L enabling seamless transition of existing rules from legacy solutions to Chronicle.
To learn more about Chronicle's SOC Prime rules, check out the Chronicle GitHub repository or reach YARA-L content directly from Threat Detection Marketplace. SOC Prime's Content-as-a-Service (CaaS) platform offers 100K+ detection algorithms and threat hunting queries for 20+ market-leading SIEM, EDR, and NTDR tools. Eager to develop your own rules and contribute to the world's cyber defense? Join our Threat Bounty Program!