Unlock the True Value of your SIEM Investment
Got a SIEM, but struggling to see the value on your investment? You are not alone. While there are many great SIEM technologies out there, it takes years of expertise, right technical as well as analytical skills, dedication and passion to unlock the full capabilities of the prime detection technology that powers the core of your SOC. Unlike the Endpoint Security or Intrusion Prevention Solutions, signatures to accurately Detect the Security Incidents are being created manually in each organization for over a decade. Thus, a time of Incident Detection and Response depends directly on the capabilities of SIEM expert team of every organization. The time for improvement has come!
Enjoy the Benefits of Collaboration and Automation
Use Case Library (UCL) is a platform for trusted exchange of SIEM Use Cases, analytical content and incident signatures supporting organizations across the globe with most accurate and up to date means to minimize time to Detect and Respond to Security Incidents. Based on the key principles of Collaborative Defense, UCL provides a reasonable level of security to all participants, regardless of SIEM technology used or budget constraints. UCL key benefits include:
SIEM Analytical content to enable Use Cases with Support Directly from the Developers
Direct Cost Reduction on SIEM Use Case Development and Maintenance
Maximization of your SOC team capabilities for Threat Hunting, Intelligence Analysis & Cyber Forensics
Deployment and Updates of SIEM Use Cases in minutes
2-click Use Case deployment straight to your SIEM tech, such as ArcSight, Splunk and QRadar
Lower of the entry skill level cap required for SOC / SIOC experts
Download Datasheet Request Trial
Sophisticated Security Use Cases, Enabled in Minutes
It is clear that Cyber Domain has its light and dark sides, with latter evolving much faster than defense capabilities. To reduce risks for any organization reasonable Threat Detection capabilities need to be deployed in timely manner, before adversaries can take advantage of the next attack vector or technology. A common example of modern APT and Malware campaigns is abuse of Tor anonymity network. Use Case Library provides turnkey capabilities to uncover such malicious operations in your organization and mitigate the risks before they bear hard consequences. Deployable in few minutes, a "DetectTor" Use Case adds instant value to your SIEM technology by finding all incidents associated with Tor usage inside an organization. An overview of DetectTor Use Case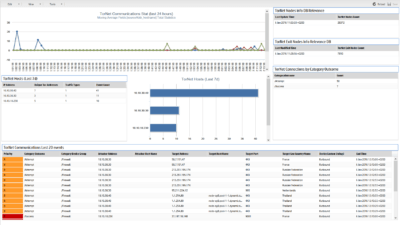 Learn More   Datasheet Request Trial
SSL Framework: Free Instant Value Use Case
SSL Framework is a Free Use Case feed shared as part of Use Case Library. Acting as bridge between Qualys SSL Labs and SIEM technology you already use, SSL Framework allows you to keep up with all the information about SSL certificates in your company. This includes automation of general data gathering, updates on the implementation of encryption algorithms and ciphers, scheduling machine-based checks, showing overall server rating, monitoring the date of expiry and updating you on the changes and new vulnerabilities that your certificate version may succumb to in the never-ending process of cybersecurity evolution. Just deploy SSL Framework in few minutes, configure your external SSL domains for monitoring and you are all set! If your organization already has one of the most popular SIEM technologies such as HPE ArcSight, IBM QRadar or Splunk you can see for yourself by downloading the framework right away.
Learn More   Datasheet Request Trial
Enable Collaborative Defense and SOC Automation!
SOC Prime provides Use Case Library for organization across the globe including our Enterprise Customers, Managed Security Services Providers and Public Sector Organizations. Through our joint efforts and unique expertise of all our teams, we are making a change together towards a more secure future. We would like to thank all our Clients and Partners who make this possible.
[masterslider id="19″]